Keeping safe on the roads in winter
How to keep safe on the roads in winter
Getting your car ready for winter
Maintaining your car for the winter
Road safety in the winter
Whether you live in the middle of nowhere, or in a city, your car is something you need to consider when you're getting ready for winter.
It doesn't matter whether you're used to a mild winter with wind and rain, or months of long dark nights and icy roads; you need to be prepared.
Just as at any other time of the year, it's important to keep safe when you're on the roads. The winter is no different, you need to be cautious and alert. Driving in ice and snow, it's important to stay safe and ensure your car is in good repair before setting off on any trips, long or short.
So in this article, we are going to give you some tips on how to keep you and your vehicle safe through autumn, winter and into early spring.
Looking for a new vehicle but not sure what's available right now? Sign up for our weekly special offers newsletter and get the best offers right to your inbox.
How to keep safe on the roads in winter
Prepare
Even if you have the most reliable weather forecast, you can never be 100% sure what winter will throw at you. You are more likely to breakdown at this time of year as opposed to any other, and not everyone is ready to breakdown in a snowstorm.
Just in case you do end up getting stuck waiting for road-side rescue it is definitely worth keeping an emergency kit in your car that has the following items in it:
A torch

It doesn't matter if it's wind-up or battery-powered – though if it is the latter, make sure you have some spare batteries.

A blanket

Pack a few in the back of the car just in case you're stuck and you have passengers. It can get really cold when you can't put the heating on
They are vital if you're travelling with children or the elderly.

Non-perishable food and a bottle of water

This could be crisps and cereal bars, or anything else that isn't likely to go off quickly

A reflective jacket and triangle

Imagine this: you break down, it's dark and raining heavily…other drivers might not see you. If you have a reflective jacket and triangle then this will keep you safe and make it easier for roadside assistance/friend/family to find you.

A mobile phone charger

Chances are that your phone is going to be at less than 50% by the end of the working day and it always seems to be that when you need your phone the most it's on its last 3% – barely enough to make a call

Always make sure that you have a full battery or a phone charger with you so that you can charge the phone when you need it. That way, if you are down to 3% when you need to make a call you can
Tracking device

If you own a business and have company cars you might want to install a tracking device in your vehicles. This will only track them during business hours but it will ensure that they are safe and that you will be able to find them should there be an emergency.

First Aid Kit

Okay, so you may not be injured, but plasters, paracetamol, bandages and some sort of antiseptic is always a good idea.
You should also prepare your car for driving in the winter. Depending on your location and the usual winter condition of your roads, this could include putting on winter tyres.
Many drivers might not think that it is worth putting on winter tyres but it is definitely something that you would want to consider. The initial outlay might be costly, but they will have proved their worth after a few years in icy or snowy road conditions. We recommend that you pop into a garage and they will be able to advise you on the best tyres for your car and for how much driving you do.
Maintaining your car for the winter
There are many things that you can do to maintain your car during the winter. This will help prevent breakdowns and will ensure your car is in tip top shape throughout the winter.
Check your tyre tread
Regardless of what type of tyres you have on your car, a tread of 3mm is recommended for winter. You should also check that the body of the tyre hasn't been affected by wear and tear. Pay particular attention for evidence of damage to the sidewalls or tread as this could lead to failure which can be very difficult to deal with in the winter months.
Want to speak with someone about getting a new vehicle and adding a maintenance package? Call us now on 01903 538835, or request a callback.
Check the tyre pressure
It can be tempting to reduce the pressure of your tyres to deal with the snow and the ice. However, this will likely result in poorer handling and won't actually improve the grip. Instead, you should check your tyre pressure and ensure that it's at a safe level. You can do this either at home, if you have te right tools, or at a petrol station.
Prepare your car before setting off
Strange as it may sound, it is an offence to drive with snow on your roof, so you need to make sure that the whole car is clear of snow before you set off. You also need to ensure your whole windscreen is clear, don't just clear space on the driver's side of the car so that you can see out. Don't set off until you can see through both windows.
It may be tempting, but when de-icing your windscreen, don't use hot water. Rather than clearing the screen, it can actually damage it. The water will find any tiny chips you may have and expand, causing a bigger problem. The best way to clear your windscreen is to use some de-icer and a scraper to make sure you get all the ice off. It might take you a little bit of extra time in the morning but it will be worth it in the long term.
Many people think that you should idle your car for 10-15 minutes before you leave in order to "warm up" the engine. This might have been the case several years ago with old cars that had carburetted engines. However, this isn't the case with modern cars. Modern vehicles only need a minute or two to warm up before you start driving. If you leave it for longer then you could be stripping vital oil from the cylinders and the pistons of your engine. Instead, of leaving the engine running (making it a potential theft risk) simply make sure you drive relatively slowly for the first 5-15 minutes until everything has warmed up.
Know how to store your car for winter
Ideally, you should store your car in a safe and dry building. You should make sure that all oil and fluid levels are topped up and that your tyres are inflated to the recommended proper level. You should also make sure that your battery is corrosion free. Of course, this isn't an option available to everyone.
You might want to consider removing your car battery and storing it inside the house. If you do this then you should leave it on a piece of wood and connect it to a maintainer/tender, but not a trickle charger. Some newer model cars don't let you remove the battery to preserve the computer's memory. If this is the case then we recommend connecting the tender to the battery while the hood is ajar. This is so you can run the cables into the engine bay.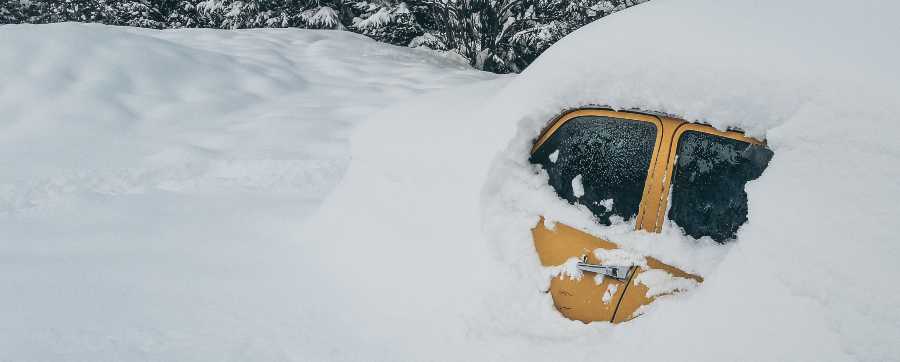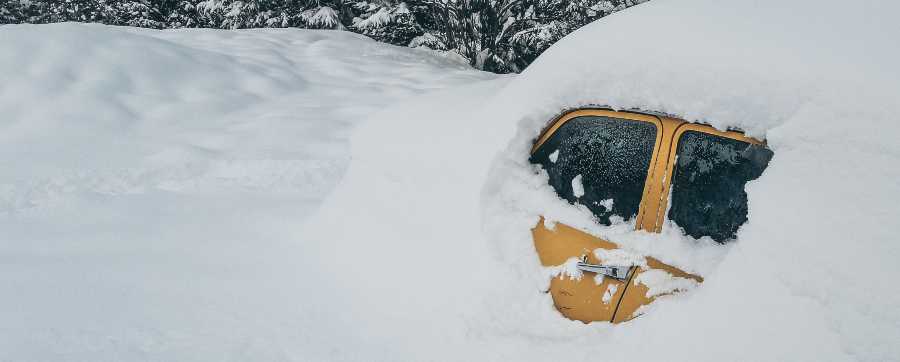 The windows should be rolled down an inch in order to prevent moisture build up inside the cabin. If you think that there could be an occasional mouse or rat wanting to set up camp in your car, then fill up any holes (such as the exhaust pipe) with steel wool balls or laundry fabric sheets.
Condensation is a problem in the winter and if you're unable to park your car in a dry building you won't want to leave your windows open. It is worth thinking about purchasing a dehumidifier for the car which will reduce the amount of moisture inside your vehicle
Finally, use a high quality cotton fitted cover to allow the car to breathe.
Consider a winter service
It is worth making sure that your vehicle is fully serviced and in excellent condition; it is always better to prevent an accident than be at risk.
A winter service is generally on the same level as a normal service. However, they will also check the tyre pressure, do some battery checks, wiper blade changes, oil changes and possibly give you a top-up of anti-freeze.
Road safety in the winter
Even the most experienced driver needs to take care when driving in wintry weather.
Black ice is one of the biggest dangers at this time of year and when driving it's worth taking this into consideration. Avoid using unlit roads; main roads are more likely to be gritted, while the more rural roads will possibly have been left. Gritted roads are much safer in icy conditions.
Be wary of other drivers and take into consideration that no matter how in control you are, they may not be. Braking distance is a very important factor in bad weather and this can be at least 10 times further in winter conditions. So, remember to keep your distance from other cars.
It's also worth noting to be extra vigilant when driving in residential areas. Children love snow and if there aren't many cars on the roads they could be playing outside. Their excitement levels will be higher than usual and they could run out onto the road without thinking, especially if they aren't expecting cars to pass.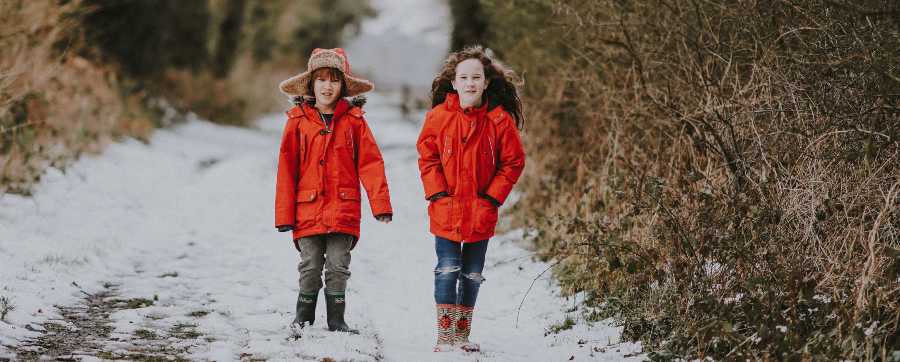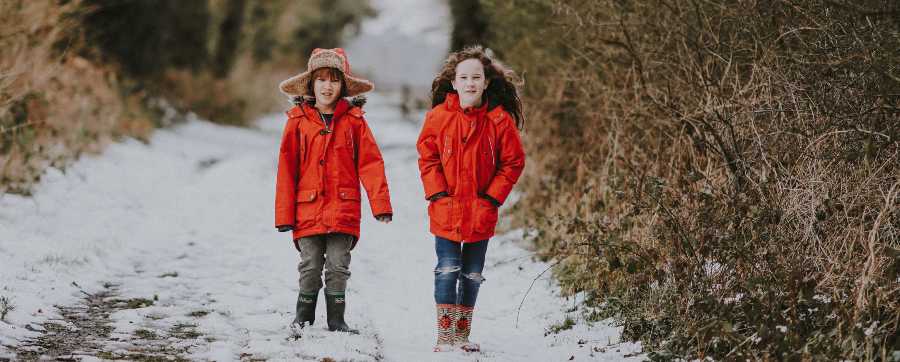 Hopefully, we have given you some tips that will help you to stay safe on winter roads.
Preparation is key, as is driving slowly and considerately. Be aware of other drivers and pedestrians who might not be expecting cars to be on the road.
Driving in the winter isn't something to be afraid of, you just need to be prepared for it.
LOOKING FOR A NEW VEHICLE?
Get in touch with the experienced vehicle specialists at OSV and they can help you to find the right vehicle to meet your needs. Call us on 01903 538835 or request a callback.
Fed up with looking for your next vehicle?
Need advice from an experienced Vehicle Specialist on what vehicle is right for you?
Book your FREE consultation now