Safest electric cars: top 5 to drive in 2022
Perhaps the endless electric car adverts have got you on the fence about going electric, but it's just the safety aspect that's holding you back.
Or you're just not quite convinced of how safe the electrical technology is? Or maybe you've heard about the world's first 'flying' Tesla? 
Whatever the reason, I know if I were planning on going electric, I would want to know the safest vehicles available to me on the market. What's better than this comprehensive list of the top 10 safest electric cars of 2022?  
Are electric cars really safe?
Before we dive into the safest electric cars to buy, let's settle the debate. Electric vehicles are safe. Of course, you can still crash and have an accident like any other vehicle on the road, but there is no real significant difference between electric and non-electric vehicles in terms of safety.
Autonomous vehicles, however, that's a totally different topics. There has been a history of autonomous vehicles crashing in the last few years. Due to the connection between electric vehicles and autonomous technology, the two often get glued together when the question of safety is raised.
However, it's important to remember that yes, all autonomous vehicles are usually electric, but not every electric vehicle is autonomous. So, it's not fair to say that because autonomous technology has been found to be fatal this doesn't necessarily reflect the safety of all-electric cars.
Interestingly on the flip side, autonomous technology has actually saved lives too. So there are two quite heavy sides to this.
The fact that 75% of motorists prefer driving a car to riding a self-driving one confirms a lot about the collective opinion of autonomous technology, and perhaps even electric cars.
Today we're here to relieve that burning worry around the safety of EVs. So, what are the safest electric cars? Let's find out…
What are the safest electric cars?
Right at the top of the leaderboard is the Polestar 2! This premium electric fastback is the brand's second vehicle and first-ever electrified vehicle. The manufacturer markets this vehicle as 'the way electric cars should be'.
That's a bold statement to live up to. However, seeing as it's at the top of Euro NCAP's safety ratings, it may be safe to assume this bold statement to be true.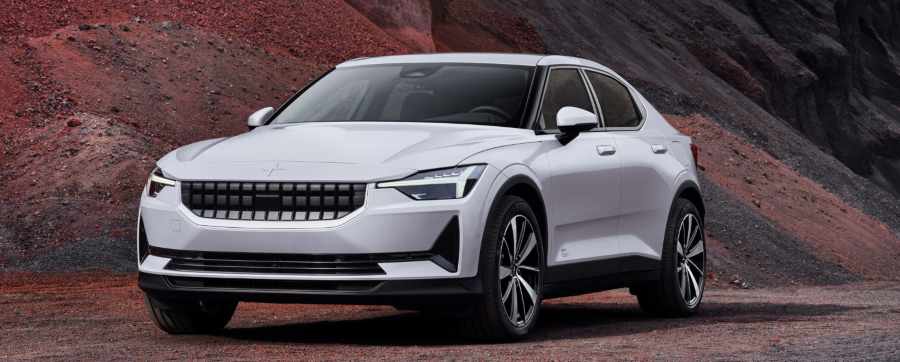 How does Euro NCAP score the Polestar 2?
Adult Occupant 93% – The test showed that adult passengers of all sizes were well protected from all angles. The Polestar 2 showed 'aggression' towards other vehicles, which is a plus for your safety but not in the case of insurance and other vehicle occupants. The test also showed great whiplash protection in the case of a collision.
Child Occupant 89% – The Polestar 2 scored maximum points in the protection of the frontal and side barrier impact for both child dummies. The car offers a flexible airbag which can be disabled to allow children to be seated facing the rear.
Vulnerable Road Users 80% – Polestar's equipment ensures more than adequate safety for pedestrians and other passers-by in its surroundings. It uses an 'active' bonnet which raises the bonnet of the car during an impact with a pedestrian. This creates a cushion between the head and the main part of the front vehicle. The autonomous emergency braking worked very well at detecting vulnerable cyclists, pedestrians and other vehicles.
So, what are some of the safety features of this luxury electric fastback?
Support systems such as a rear camera, front park assist and rear park assist
Security protection including an alarm system and power child safety lock
Collision Avoidance and mitigation
Run-off road mitigation
Forward collision warning
Lane-keeping aid
Post impact braking
Prevention systems including protective technologies designed to keep occupants safe
In second place is the Mercedes EQS model. This premium electric saloon is a typical choice for business owners looking to impress. Mercedes label this model as 'sensuous' and 'breathtaking' – let's hope they don't mean literally.
So, is this a car you can enjoy 'sensuously' and safely? Time to investigate…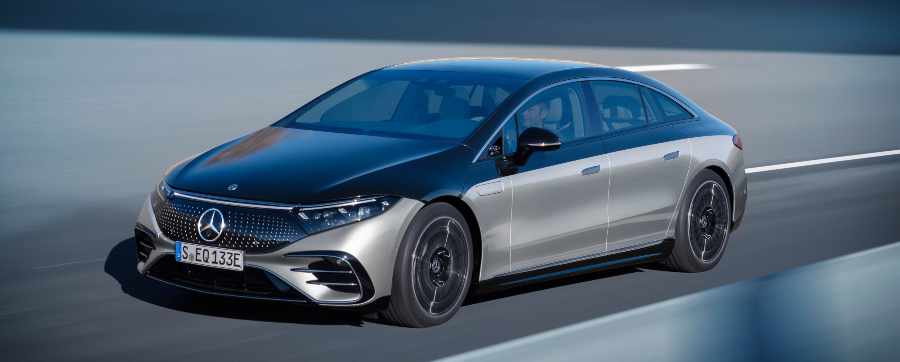 How does Euro NCAP score the Mercedes EQS?
5-star rating in total
Adult Occupant 96% – The EQS scored maximum points in providing protection to all critical areas of the adult body including the driver and rear passenger. Occupants of all sizes and sat in various seating positions have a good protection of the knees and femur. The EQS also provides good whiplash protection for adults as well as the head impact from driver to passenger thanks to a centre airbag. The EQS also provides a multi-collision braking system which prevents secondary impact after being involved in a collision.
Child Occupant 91% – The EQS provides a pretty decent protection system for children. If an impact happens at the front or side of the car, all critical body parts will be well protected. On top of this, you can be very flexible with seating and securing children in the car. Where a rearward-facing child is sat, the front passenger airbag is automatically disabled.
Vulnerable Road Users 76% – An 'active' bonnet is provided which ensures good protection of the head, legs, and pelvis (although the pelvis got mixed test results). The autonomous emergency braking system works well at detecting and avoiding collisions with vulnerable pedestrians and cyclists.
What are the best safety features of this luxury electric saloon?
Assistance package including:
Active lane-keeping assist
Active distance assist
DISTRONIC – this is an adaptive cruise control system, which brings the driver up to speed, braking when necessary and helps maintain a safe distance between other vehicles near you
PRE-SAFE Impulse side – this is essentially technology that shifts the driver inwards away from the door when in a collision
URBAN GUARD vehicle protection plus including:
Anti-theft alarm system
Interior monitoring system – this essentially provides an all-round monitoring system and barrier
Tow-away protection which detects changes in vehicle movement
Stolen vehicle location
Interior monitoring – this will trigger an alarm if there is detected movement from inside the vehicle
Coming third is the award-winning Volkswagen ID.4. This family-friendly electric SUV is a very smooth, easy electric vehicle.
What does the ID stand for you ask? It stands for Intelligent Design. How is the design intelligent? Well, both the exterior and interior follow the smooth and simple style, very on-trend for 2022. It features gloss black, shiny silver and soft-touch surfaces.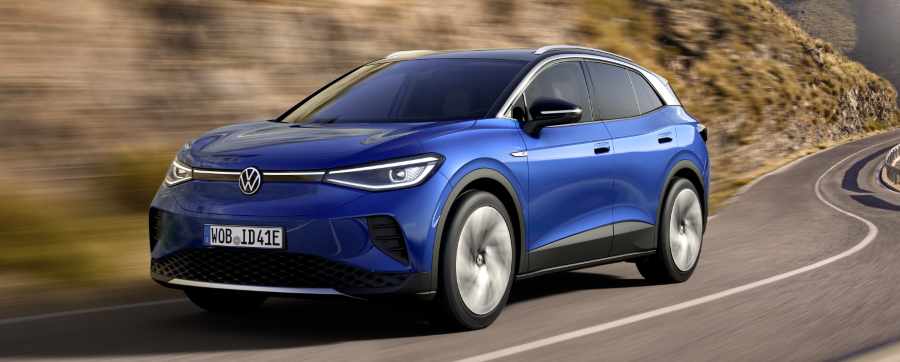 Enough about the fancy looks, how does it rate out of this list of safest electric cars?
How did the ID.4 score in Euro NCAP's rating?
5-star rating in total
Adult Occupant 93% – The ID.4 scored highly in terms of protection for occupants in the event of a side collision into a barrier or pole. On top of this, the car is installed with a centre airbag protecting both the front passenger and driver from head-to-head contact in the event of an accident. There is also good protection of the heads against whiplash for the front and rear occupants. Overall ID.4 showed good protection to the driver and passengers including all critical body parts and the knees and femurs. Occupants of all sizes and in any seating position are also protected.
Child Occupant 89% – For the protection of 6-10-year-olds when the car is impacted from the front and the side, ID.4 scored maximum points in this section of the test. You can disable the front passenger airbag so that a child can be seated rearward-facing safely.
Vulnerable Road Users 76% – This car offers an autonomous emergency braking system that detects close pedestrians and cyclists, however, it cannot detect pedestrians to the rear of the car. In response to vulnerable road users avoiding collisions was said to be adequate. The head, legs and pelvis of the 'struck' pedestrian were either good or adequate in test conditions.
How about a taster of some of the fantastic safety features?
'e-call' Emergency call service
Front Assist – Autonomous emergency braking with pedestrian and cyclist monitoring
Isofix child seat preparation, easy-fit (for two outer rear seats, and front passenger seat), compatible with I-size
Proactive passenger protection system in combination with Front Assist
Driver alert system, fatigue detection
Oncoming vehicle braking when turning including swerving support
The Skoda ENYAQ iV earns fourth place, but does its fresh design and practicality work for families?
With a sensible electric range of 253 miles and generous interior space, we may be safe to assume it is the perfect family electric SUV, but what about its safety?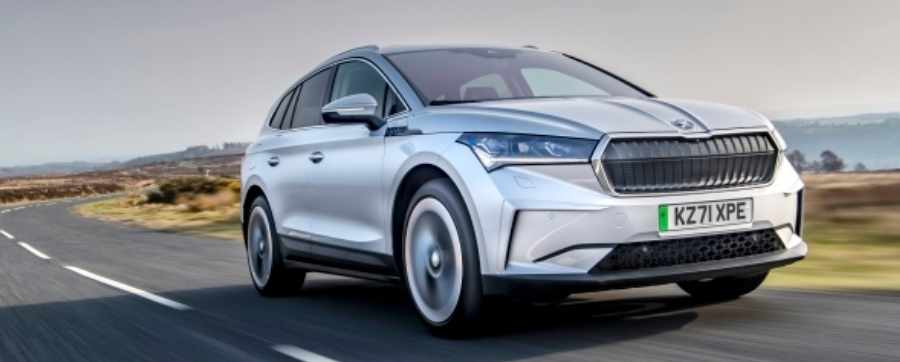 How did the ENYAQ iV's safety score in Euro NCAP's test?
Adult Occupant 94% – The ENYAQ received maximum points in the protection of the driver and passengers in the event of a side impact hitting a barrier or pole. Occupants in the front of the car have good or adequate protection of all critical body parts. All passengers are also protected in the event of whiplash injury if the car is hit from behind. In addition, a centre airbag protects the occupant's head from a far-side impact. A far-side impact would be when a passenger is thrown from one side to the other.
Child Occupant 89% – When in a front or side impact, the ENYAQ offers good protection for 6-10-year-olds and scored maximum points in this test. Similarly to the previous electric cars mentioned, the front passenger airbag can be disabled for a rearward-facing child to sit in the front seat.
Vulnerable Road Users 71% – Protection of the pedestrian's head, legs and pelvis is good or adequate. However, the pelvis protection got mixed results with some areas performing well and others poorly. Similar to previous cars mentioned, the ENYAQ detects nearby pedestrians and cyclists through an autonomous emergency braking (AEB) system and works adequately to prevent a collision. However, it cannot detect any pedestrians behind the car.
What safety features does it offer?
Front assist with assisted automatic braking
Anti-theft alarm system with interior monitoring, backup horn and towing protection
ISOFIX child seat preparation to the front passenger and outer rear seats including top tether hooks
Manual Child safety lock
Standard electronic engine sound
In fifth and final place, we have the BMW iX! This sports activity vehicle offers up to 275 miles in electric range and is perfect for when you're in the mood to adventure on and off-road.
It has a luxurious and spacious interior with a superb infotainment system, it's an ideal choice for many electric vehicle buyers.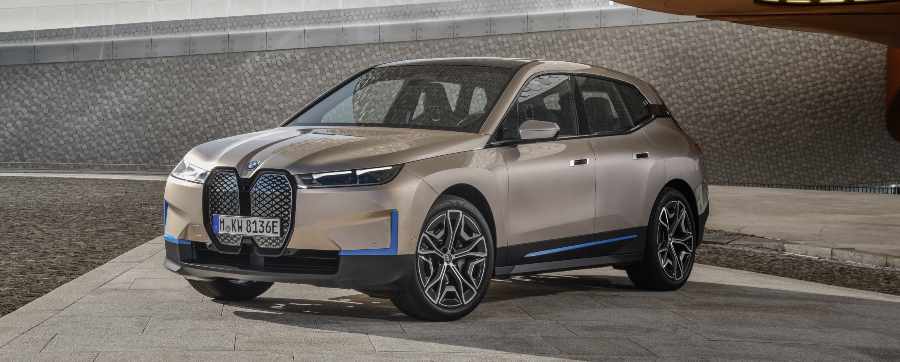 How does Euro NCAP rate the iX on safety?
5-star rating in total
Adult Occupant 91% – The iX was awarded full marks in protecting all critical body areas in the event of a severe side impact into a barrier and pole. The knees and femurs of the driver and passenger are well protected at the front, this includes occupants sitting in different positions and of all sizes. In a frontal accident with another car, the BMW iX will act aggressively towards the other vehicle. The iX scored well in protecting occupant's heads and all critical body areas except for the passenger's chest which was scored as adequately safe. Overall whiplash protection for all occupants was rated as good in the event of a rear-end collision. This EV will notify the emergency services in the event of an accident thanks to its e-Call system.
Child Occupant 87% – Very similar to the previous cars, the iX offers very good safety for children. In a front and side impact, all critical body parts are well protected. The front passenger airbag can also be disabled allowing a child to be sat and secured rearward-facing.
Vulnerable Road Users 73% – The iX offers an active bonnet, this, as mentioned previously, detects when the car is in contact with a pedestrian and will lift the bonnet to create a 'cushion' between the pedestrian's head and the hard components of the car. In test conditions, this BMW tested well in protecting the head and legs of the pedestrian in the whole Euro NCAP overall. The AEB system performed well at detecting surrounding vulnerable pedestrians and cyclists, avoiding collisions in most cases.
How about some of its safety features?
eDrive Exterior Sound – Electric vehicles when driven are often soundless as they have no engine to create a 'rev' sound. This can often pose a risk to surrounding pedestrians if they do not hear a vehicle coming. A synthetic sound helps to alleviate this risk
Parking Assistant – this will enable the driver to park very precisely using intelligent technology to scan a space and guide them in via a camera
Driving Assistant Professional – this is a radar-based camera system offering help during critical traffic situations for example blocking a lane, trying to enter a jammed highway and a junction with deadlock risk (where there are too many cars exiting and entering the main road of a junction)
Which is the safest electric car for me?
In this article we've looked at the top 5 safest electric cars, but which earned the top spot for you? This is solely down to your personal decision and what you feel best meets your requirements.
Hopefully, the information we have provided has helped you decide which is the safest electric car that most suits your needs. It's understandable if you still have doubts, these are still fairly new cars. There's still plenty more new and improved technology to come. But if we are comparing the safety of EVs to ICE vehicles, then there simply is no real comparison to be had.
Fed up with looking for your next vehicle?
Need advice from an experienced Vehicle Specialist on what vehicle is right for you?
Book your FREE consultation now