What electric car should I buy?
Which electric car is the best price?
Is an electric car practical for me?
How easy is charging an electric car?
In 2004 a small, and at the time relatively unknown, American company started development of their first vehicle, a fully-electric road-legal car. Developed under the codename, DarkStar, and built based on the chassis of the Lotus Elise, the Tesla Roadster was released for sale in 2009 in the UK (2008 in the US). This BEV (battery electric vehicle) was able to do more than 200 miles on a single charge. But, of course, the car came with a price tag more suited to a supercar, costing £92,000.
2019 was a really good year for electric vehicles, with the number  (including hybrid, plug-in hybrid and fully-electric) sold across Europe surpassing 100,000 in a single month (March). And, of course, the all-electric Jaguar I-Pace beat out 80 other cars to be awarded the honour of UK Car of the Year 2019 – as well as winning over 20 other prizes.
Many manufacturers, including Bentley, Lotus and Mercedes announced new electric vehicles (or unveiled concepts for future vehicles) at the end of 2019.
2020, followed suit, however, with a global crisis hitting in March, things slowed down somewhat, with releases being pushed back and production halted.
There is no doubt that things have improved and new electric vehicles are being announced incredibly regularly as companies realise that they are the way forward.

What electric car should I buy?
With more and more drivers looking to move away from fossil fuels, motorists are starting to look in the direction of the electric car. A very popular question is 'What's the best electric car?' but there are so many factors involved in determining this, and it's often an incredibly personal thing.
What is best for one person is not necessarily what is best for the next one, so while we can recommend the cars that get the best mileage to the charge, or the best sized vehicle for a family of four, ultimately, the decision is in the hands of the buyer.
In this article we are going to look at what is available and provide an honest assessment about why they may, or may not, be the right vehicle for you and your individual needs.
Which electric car has the best price?
Of course, this is subjective. Everyone has a different figure in mind when they are looking to make a large purchase, so while some could be looking in the direction of the smaller Smart car or the Renault Zoe, others will be staring at the latest e-Tron or the new Tesla Model 3. Which one would be right for you? As with petrol and diesel cars, the style of vehicle and the price varies depending on the manufacturer you are looking at.
Something which must be taken into consideration when purchasing an electric car is the fact that while the initial outlay could be higher than if you are looking to purchase a petrol or diesel car, the cost of filling up (though it will take longer) is much cheaper.
The Hyundai Santa Fe (7-seater) has a 65-litre capacity and to fill from empty to full, using the average cost of a litre of petrol in the UK*, will be an estimated £80.60.  On a full tank you can travel roughly 523 miles.
When it comes to looking at the equivalent of the Santa Fe (or vehicles of a similar size), though range is much lower, for the same distance (523 miles) it will cost between £21 and £26 to recharge the vehicle. This saving, on the cost of fuel, is something which is reflected across the other vehicle types.
There are also additional advantages to purchasing electric, a reduced vehicle excise duty (or car tax), which can, in some cases be zero. Of course, if you are travelling into and around London you will also have the advantage of not being charged to travel through the Low Emission and Ultra Low Emission Zones.
*As of 17 July 2020
If you've got a big family and are looking for a comfortable seven-seater, then, right now, choices are admittedly a little bit limited, but they are at both ends of the price spectrum.
If budget is not a concern, and you're looking for a car with long range then the Tesla Model X Long Range should be at the top of your list. With a range of 285 miles per charge, a top speed of 155mph and a spacious interior with room for 7, this is the ideal larger family car. However, it comes with a price tag to match, costing almost £86,000. Of course, there are savings to be found when it comes to the cost of charging, from empty to full is an average of £12.60 at home and from 20% to 80% on a public charger the cost is an average of £12.96. Tesla has produced several different variances in the Model X line, and the prices for these range from just over £76,000 for the Standard Range model, up to over £100,000 for the Ludicrous Performance model. Tesla announced in June 2019 that the Model X now includes free charging at Tesla's supercharge points, which further reduces costs on the go.
If you're thinking about getting a 7-seater, but aren't in a hurry, then, with a range of between 245 miles and 280 miles, the Tesla Model Y might be one to add to your list. Prices for the Model Y are currently being reported as starting from at just under £36,000. However, you'll have to wait a while, as the release date for the Y has been pushed back into 2022.
At the other end of the spectrum when it comes to price for a generous seven-seater, is the Nissan e-NV200 Combi. Range isn't quite as high as the Tesla, managing 124 miles before it needs to be charged. The Nissan e-NV200 and the smaller but more familiar Nissan Leaf both come with a 5-year vehicle warranty and an 8-year battery warranty, meaning the battery is covered for up to 100,000 miles of travel. The car is fitted with a rapid charger port, which means it can go from 20% to 80% in between 40 and 60 minutes – the perfect length of time if you're at a supermarket or shopping in town – and costs around £5.18, with home charging from empty to full costing an average of £5.04. The total cost of an e-NV200 starts at just over £29,000.
Citroen is also joining the bandwagon. Already well-known for the spacious SpaceTourer, the company announced the e-SpaceTourer in June 2020. It's expected that the 9-seater EV will have a 143-mile range and quick charging. The first models will be available in the UK in late 2020.
I need a small family car
If you're looking for a slightly smaller car, with space for 4 or 5, then you're in luck. This segment of the market is much larger, with far more manufacturers catering for the smaller family. The battery range goes from 100 miles all the way up to 325 miles, with prices also varying from around £24,000 right the way up to just under £98,000.
Of course, the type of vehicle available in this group also varies, including saloon, SUV, and SuperMini/Citycar, so we'll be breaking them down by vehicle type in this category, which will give a much clearer impression of what is available at different levels of budget.
At the moment this particular category is limited to two cars with seating for 5, the Renault Zoe and the electric version of Volkswagen's popular Golf. The price for these vehicles is between £24,000 and just over £30,000.
The Renault Zoe has a range of 160 miles between charges and a top speed of 84mph. If you purchase one, then Renault will provide you with a free charging wallbox. The wallbox has the capability to charge your car from 0%-100% in just over 7 hours at an estimated cost of £5.17, though this depends on the supplier you are with and their kWh charges. If you're in need of a boost while travelling then your Zoe can charge from 20%-80% in just over an hour at a cost of approximately £5.31.
The e-Golf costs slightly more than the Renault, and according to WLTP testing has a range of up to 143 miles. Of course, having a lower range means that the cost to charge the vehicle, both at home and using rapid chargers, is less. To charge from empty to full at home will cost an average of £4.51 and take between 5 and 16 hours depending on whether you use a regular 3-pin plug or a charging box. Using a public quick charger to get the car from 20% to 80% takes an estimated 40 minutes and costs roughly £4.64.
This segment of the small family car market is pretty lonely at the moment, with just the Golf and the Zoe, however, in 2020 two new vehicles will be joining them; the eagerly anticipated Vauxhall Corsa-e and the Peugeot e-208. At the moment information about these two is speculative, as they have not been through WLTP testing, but this will change as the launch dates get closer.

If you're looking for a saloon, perhaps something that can be used for work and home, a little bit more space in the back then there are a number of different cars to choose from, and prices start at just over £27,000 rising all the way up to nearly £98,000. This is the most expensive segment if you're looking for a small family car.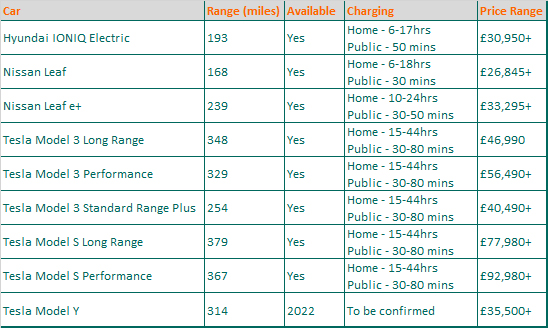 *Statistics for public charging look at how long it takes and how much it will cost to charge the vehicle from 20% to 80%.
**Vehicle cost is estimated as it will vary depending on model, trim and any additional packages.
This is a sector that is growing as more manufacturers realise the value of the small SUV on the road, and how popular they are with consumers who want an SUV but would prefer a smaller vehicle that is practical for driving along narrower and more crowded urban roads.
In 2019 and 2020 a total of five new smaller SUVs are due for release.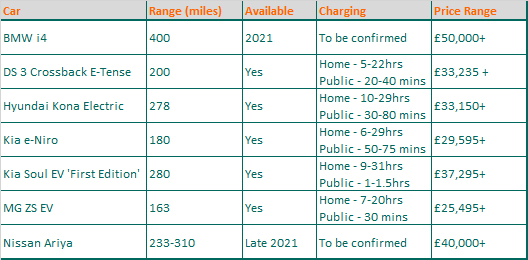 *Statistics for public charging look at how long it takes and how much it will cost to charge the vehicle from 20% to 80%.
**Vehicle cost is estimated as it will vary depending on model, trim and any additional packages.
This is another sector which is seeing growth, this time last year there were very few cars available which could qualify as an SUV, however, this has changed as more manufacturers are seeing potential for growth, and the popularity of this sector. At the moment there are three vehicles available, with a further four being launched over the next 18 months.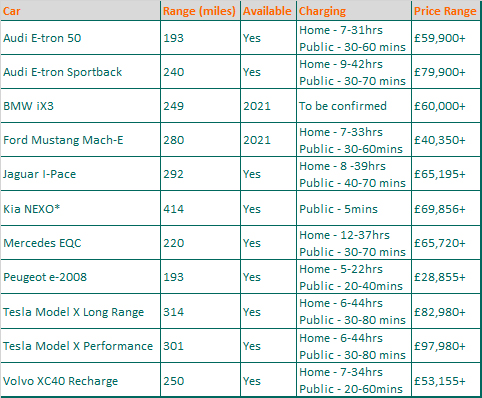 *Statistics for public charging look at how long it takes and how much it will cost to charge the vehicle from 20% to 80%.
**Vehicle cost is estimated as it will vary depending on model, trim and any additional packages.
If you're not looking for a car for travelling with the family, instead you're looking at a car that is perfect for the daily commute, running everyday errands, might be driven to impress and has a range which varies between 55 miles and nearly 300 miles between charges, then this is the segment for you.
This category includes everything from the practical city run-around like the Smart EQ forfour to the yet-to-be-released Volkswagen ID.3.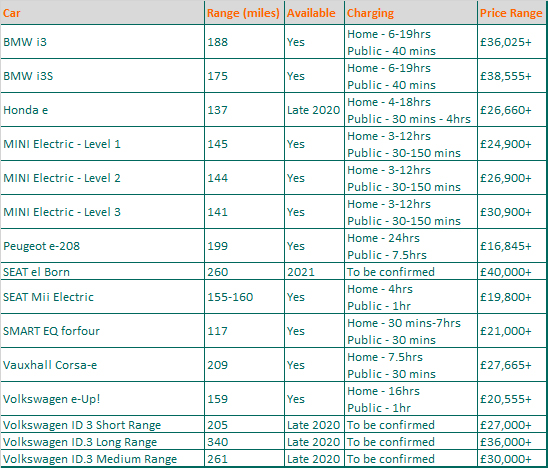 *Statistics for public charging look at how long it takes and how much it will cost to charge the vehicle from 20% to 80%.
**Vehicle cost is estimated as it will vary depending on model, trim and any additional packages.
This particular category is definitely specialist. The vehicles are affordable, ideal as a run-around, or for your commute (if it's short). The reason we would only recommend these as a run-around is due to the fact that they are definitely not suitable for a family, having space for just two people. Due to their size they are perfect if you live and/or work somewhere where parking is difficult and roads are narrower.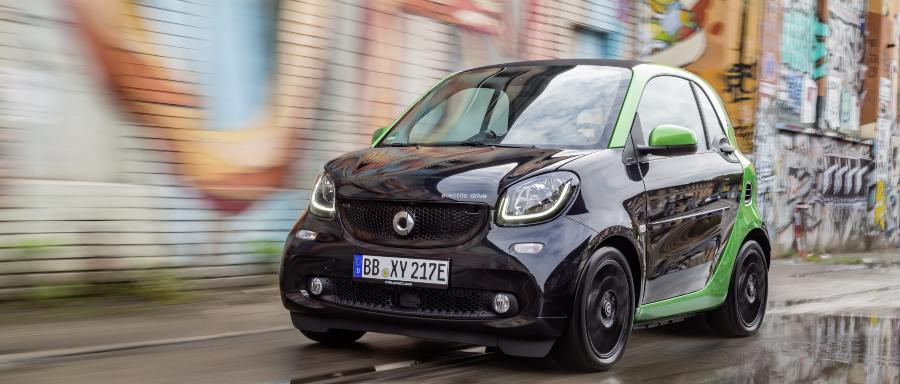 Both of these cars are manufactured by the Mercedes, Swatch partnership brand, Smart. The Smart EQ fortwo and the fortwo Cabrio have a range of between 55-65 miles before they need a full recharge. Both vehicles have a top speed of 81mph, which makes them the ideal vehicles if you're driving through busy, gridlocked roads. The Smart EQ fortwo coupe costs just under £18,000, though cost depends on trim and any additional packages you decide to purchase. The Smart EQ fortwo cabrio costs a little more, at just under £20,000 (again, this depends on the type of trim and any additional packages purchased with the vehicle).
Charging the Smart EQ is relatively quick, taking between 4 and 8 hours. As with all electric vehicles it depends on where you are charging and what cable/plug you are using. Charging at home overnight can take up to 8 hours to go from 0% to 100% which will cost an average of £2.22.
As with all charging costs it will depend on the fuel tariff you are on, and the supplier you are with.
Of course, when charging, please ensure that you aren't using multiple extension cords to go from plug to the car; recent reports have shown that doing this is incredibly dangerous.
This is the category where you will find cars that are for the aficionado. The higher end vehicles with the bigger price tags, great miles to the charge, and launch dates which are still to be confirmed.
There are currently very few luxury sports cars on the market which are 100% electric, however, this is changing, with announcements from companies like Lotus, and launches of incredibly high priced hypercars like the Pininfarina Battista, which made its debut at the Geneva Motor Show in March 2019.

Ferrari is a little behind when it comes to electric technology in their cars, however, with the announcement of their latest car, the hybrid SF90 Stradale, it's possible we will hear something from them regarding an all-electric supercar at some point in the future.
In the meantime, there are some sleek and stylish all-electric cars that will be arriving on the market in the next few years.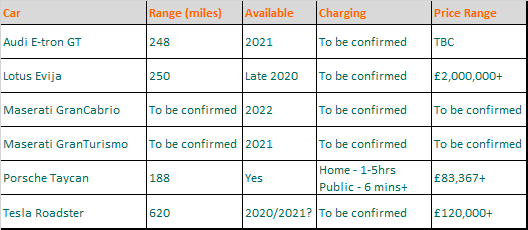 *Statistics for public charging look at how long it takes and how much it will cost to charge the vehicle from 20% to 80%.
**Vehicle cost is estimated as it will vary depending on model, trim and any additional packages.
Is an electric car practical for me?
At the 2019 London Motor and Tech show a panel of EV experts talked about the decisions you need to make when considering purchasing or, more likely, leasing an electric car.
During the EV panel a point was made which should not be overlooked, and that is the fact that range anxiety – whether your car can only do 65 miles to the charge like the Smart EQ fortwo coupe, or 295 miles before it needs a charge like the Tesla Model 3 Long Range – is a reason why buyers are still shying away from the idea of going electric. Understandably, drivers who rely upon their cars to run errands, commute to work or carry out the school run on a daily basis, are concerned that the battery will run out of charge when they are driving.
A concern that many motorists raise when asked whether they would consider switching to an electric vehicle is related to ease of accessing charging facilities. Finding a parking space can be difficult, especially when you live in an urban area, therefore there is a concern that finding a parking space with charging facilities will be even harder. The fact that many people who live in built-up areas are unlikely to have a specific parking space for their personal use, and assigned parking is limited in blocks of flats is also an issue that was raised. All these things are seen as obstacles to becoming the owner of an electric car.
At the end of May 2019, OSV conducted a short survey asking users on Facebook what were the reasons why they wouldn't choose to purchase or drive an electric vehicle. 63% of those who participated confirmed that range anxiety and the issues with charging infrastructure in the UK were the core reason for not considering an electric vehicle as their next purchase. 37% responded that the initial cost of the vehicle was their reason for purchasing something else. The additional complication of charging, cost of battery replacement and concern with the damage to the environment done by production and disposal of batteries were other concerns voiced by commenters when asked for further information.
There have been cases when attempts to charge an electric vehicle which hasn't quite been parked close enough to a power source to be charged easily has led to danger for the owner. Use of multiple extension cables in order to reach the car has led to accidents which could have been avoided if charging points were easier to access.
Charging in rural areas is another issue. There are a large number of regions in the country (and globally) where access to a charging point is not going to be right on the doorstep. Whether it's because you are located on a remote farm, or in a small village where permission to dig up roads to fit new power cables is difficult to obtain (something which happens in many villages with ancient foundations).
Will electric cars become more practical in the future?
In October 2018 the Business, Energy and Industrial Strategy Committee released a report called Electric Vehicles: driving the transition, which outlines the government plan to deliver full electrification of vehicles in the UK by 2050. The report recognises that there are consumer barriers to purchasing an electric vehicle, and makes recommendations, including grants and incentives in order to encourage more people to make their next car 100% electric.
If you are resident in London and run a micro-business, are a sole trader or a charity then a scrappage scheme has been set up to support you in replacing your existing vehicles so that you are not subject to the charges associated with the emission zones. The grants payable range from £3,500 to £6,000 though criteria are quite strict and if you are a private individual you are not eligible.
If you have an electric vehicle then you can claim OLEV, which is also known as the Electric Vehicle Homecharge Scheme (EVHS). If you have an eligible electric vehicle you are entitled to a £500 grant from the government which goes towards the cost of purchasing a charging point. You can claim the grant for up to two charging points – though only one per vehicle.
There is one more grant available for anyone purchasing a plug-in electric vehicle (though there are criteria which must be met), this is the called the Plug-in Car Grant (PiCG). The maximum amount available is £3,500 (this was previously £4,500), and the amount you are eligible to receive is applied at the point of purchase by the dealership.
As previously mentioned, the provision of charging points is proving to be a very large obstacle for the majority of people who are purchasing new vehicles, and this is something which the committee is aware of. Especially when some regions of the country have such a small number of charging points; Wales, for example, has a total of 31 public charging points, which works out as 1 charging point per 98,000 people. This is certainly impractical and likely the most significant barrier to progress.
At present the committee is considering proposals that look at how to improve facilities and provision of electric car charging points in publicly available areas.
Oxford is in the process of implementing an Ultra Low Emissions Zone in the centre of the university city, and they have started to test various methods of charging, including pop-up charging stations, and more charging points in council-run carparks. These are currently in the test stage, however, if they prove successful they will be introduced across the city as effective and practical resolutions to the problem.
This report also acknowledged that an increase in electric vehicles would also have an impact on the National Grid, with a requirement for more provision of low carbon power stations as national sources, such as wind farms and solar power are not sufficient.
With a target of 100% electrification by 2050 having been set as a goal by the government, it would be fair to assume that plans are in place to ensure that accessibility to easy-charging, the environmental impact of more power stations and affordability of vehicles are issues that are being considered. And, if this report (which you can read in its 66-page entirety here should you wish to), is anything to go by, then there are resolutions for every possible issue connected with producing a realistic and workable infrastructure for a fully-electric road system over the next 30 years.
As with any new technology, the supporting infrastructure for electric vehicles will take a while to build and once plans are agreed they can still take considerable time to be actioned. With the introduction of the ULEZ in London – with other locations such as Glasgow, Birmingham and Oxford to follow – the pressure on drivers to consider cars with lower emissions, such as hybrid and all-electric, is even greater. However slow the progress, there are a lot of things to take into consideration when looking for your next vehicle, including the benefit your choices might have when it comes to the future.
INTERESTED IN AN ELECTRIC VEHICLE?
Contact one of our experienced Vehicle Specialists on
01903 538835

, or fill in the form below

Latest posts by Rachel Richardson
(see all)