Christmas may be over, but that doesn't mean that winter is. In fact, we've got quite a way before we get to summer again.
And, the recent bad weather might have got you wondering whether you should invest in some winter tyres.
So should you get winter tyres? In this article we look at everything you need to know about winter tyres including the different types, how much they cost and whether they are something you should consider.
Everything you need to know about winter tyres
Winter tyres are designed to give you additional grip in cold weather. They are produced using a rubber compound that features a greater amount of natural rubber in the mix compared to summer tyres. The tread blocks surface is covered with jagged slits and the actual tread grooves are noticeably deeper than conventional tyres.
These features are designed to offer improved braking and traction. This is not just on snow and ice but also on wet roads in cold conditions.
You will be able to tell if tyres are winter tyres by the snowflake symbol on the sidewall.
What are the benefits of winter tyres?
The main benefit of winter tyres is improved grip. The jagged slits that cover the tread blocks are called sipes. It's these sipes that provide hundreds of additional edges to grip the road surface.
These bring you extra flexibility which allows the movement of the rubber to enable the softer rubber body of the tyre to cling to the road. A summer tyre, however, features much more rigid and solid tread block. This makes it much less likely that you will be able to maintain control in icy conditions.
The deep grooves are particularly good at dealing with loose snow. This is because they enable snow to become compacted within the grooves and as the snow clings to the tyre, it actually ends up improving the grip.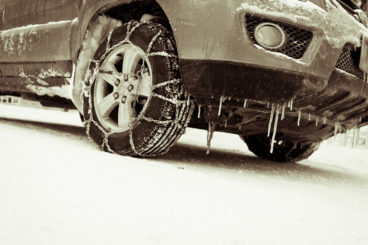 The increased effectiveness of winter tyres isn't just confined to snow and ice either. The deeper tread grooves aid with water dispersion, reducing the chances of aquaplaning. This is useful not only after a heavy downpour (and we get a lot of those in the UK!) but also in slushy conditions, the worst type of weather if you ask me.
The main benefits of winter tyres is the improved handling and braking efficiency in poor conditions. Your stoppage time is increased hugely with winter tyres when driving in snow, ice and rain compared to summer tyres.
However, it should be noted that winter tyres do not prevent skidding or stop you from getting stuck in the snow. Think of them as winter or cold weather tyres and not snow tyres.
Why aren't winter tyres more common in the UK?
Given the amount of appalling weather we have here in the UK, you would think that all cars would be fitted with winter tyres. So why aren't they?
In many parts of Europe it's standard, and in some countries a legal requirement, to possess two sets of wheels and tyres – i.e., a set of standard summer tyres and a set of specialist winter tyres. However, here, it is much less common for car owners to have two sets of tyres.
While it might not be particularly surprising to experience a prolonged cold snap in the UK, it is by no means inevitable. The problem is, once temperatures reach 7 degrees Celsius or above, winter tyres perform worse than summer tyres. This is likely to be noticeable in terms of braking distances as well as handling around bends.  
Many drivers take the view that it simply isn't worth the hassle to fit winter tyres. This is especially the case for people who live in areas where the roads are always well treated and whether harsh weather conditions only occur once in a blue moon. Also, in the event of a severe weather warning, a fair proportion of drivers simply opt not to take their car out.
How much do winter tyres cost?
So how much are winter tyres going to cost?
Firstly, you should think about investing in another set of rims for your winter tyres. Steel rims make better sense in the long term as they prove to be resistant to corrosion from grit. It's also a good idea to buy a spare as you are more likely to notice a marked impairment in grip and performance if you have to combine three winter tyres with a standard tyre.
A set of winter tyres and rims for a family hatchback is likely to cost in the region of around £500-600. You could end up paying about £450 for a small family car.
Many tyre dealers and main car dealerships now supply and fit winter tyres and then will store the spare set until you need them again. The fee for storage ranges from around £6.50 per month or some charge a total fee of around £45-£50.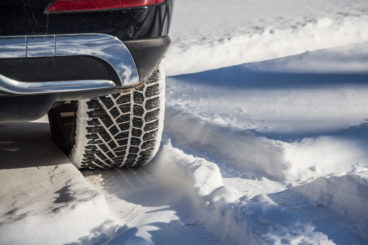 This might seem like a lot, but when one set is being used then the others aren't becoming worn so you're likely to find that the time between replacements is doubled.
Does my insurance change if I have winter tyres?
There were stories in previous years of some insurers seeking to increase premiums. This is because it was on the basis that fitting winter tyres amounted to 'modification'. There was even a suggestion that insurers were refusing to cover in some instances.
However, the reality is that insurers recognise that winter tyres can have a positive impact on road safety. We do recommend that you let your insurers know but it shouldn't affect it at all, as long as they are the correct specification.
Are there any alternatives to winter tyres?
If you don't want to invest in winter tyres then there are some alternatives. Tyre socks are synthetic fabric wraparounds that fit over your tyres to provide extra grip in snowy or icy conditions. They're designed to give extra grip in localised patches of snow and ice. Therefore, they are most useful for pulling away from an iced-up driveway. These cost around £50 a set and you will have to remember to remove them when you're on clear tarmac. Otherwise they will simply disintegrate.
You could also opt for all season tyres. They offer a greater degree of flexibility than standard summer tyres and have a tread pattern somewhere between what you'd expect on a summer or winter tyre. They are a compromise which means they work better on winter roads than a summer tyre but you lose some of the performance you'd expect from a standard tyre once the normal weather conditions return.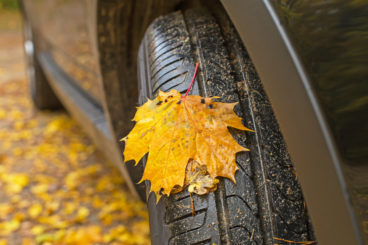 Should I get winter tyres?
To be honest, it all depends on your location and likely winter usage. Drivers who have got car lease deals on vehicles that they rely on all year round or drive on roads that are prone to becoming dangerous in harsh conditions, may want to consider winter tyres. They may be a sensible investment.
The same is true of those who live in isolated spots where periods of wintry weather are common. If fitting winter tyres increases your car's handling, and your confidence, to the extent that you're less likely to find yourself effectively cut off for long periods, then they are likely to be a wise investment.
If you are thinking about fitting winter tyres, don't wait right up until the snow's arrived. It's common in northern Europe to have your winter tyres fitted in October time and have them removed in early Spring.
In conclusion, winter tyres are designed to give you additional grip in cold weather. They offer improved braking and traction in snow, ice, and the rain. You can usually tell if they are winter tyres because they have a snowflake or snowy mountains on the sidewall. The benefit of winter tyres is that there is improved grip. Winter tyres have extra flexibility which enables the softer rubber body of the tyre to cling to the road. It will cost you a little bit to get a set of winter tyres, but if you have them on all winter then this increases the life of your summer tyres. We recommend looking at winter tyres if you often drive on roads that are not maintained during the winter months or if you feel that it will make you feel safer and increase your confidence. Hopefully, this has given you some idea of what winter tyres are, how much they cost, and whether you need them.
If you require any additional help reference winter tyres or even leasing in general, our team are always on hand to help so do not hesitate to contact us. 

Latest posts by Rachel Richardson
(see all)