Looking for an objective review of the BMW 2 Series Gran Tourer? In our review, OSV has got you covered with engines and lease deals.
If you want seven seats and still want to look good, the slick new BMW 2 Series Gran Tourer allows you to do just that. It's for families who want to combine usability with desirability, and who fancy something a bit more upmarket to another Toyota. But can it capture your imagination more than the usual family favourites in this class?
BMW are still new to the MPV market, but you wouldn't know it – their offerings are as useful and classy as anything else on the market right now. They've currently got a pair of MPV's on sale, with this seven-seater being the bigger of the two. It's powerful, practical and upmarket. But despite all this, it's still got a family-friendly price tag.
OSV takes a closer look at what it's all about with our 2017 BMW 2 Series Gran Tourer review.
Overview Of The BMW 2 Series Gran Tourer
The Ford S-MAX has been the champion handler in this class for sometime now, but this new 2 Series GT is here to challenge its crown. As ever with a BMW, handling is superb and all-round drivability is faultless.
You might be surprised at first to learn that the engines found here have already been put through their paces in the MINI Hatchback. But while that car is undoubtedly a lot smaller than this one, the engines are bursting with character – and that's why BMW have fetched them over.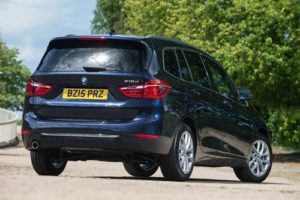 They're also a lively bunch of engines that manage to make this sizeable people carrier feel faster than you'd anticipate. Moreover, they ensure that the 2 Series doesn't handle like your usual cumbersome people carrier. It drives exactly like you expect a BMW to drive, which we can only put down to their superior engineering ingenuity.
The suspension has been setup for maximum comfort for families, though there is an M sport model available which boast sportier suspension. This is overly firm and doesn't go hand in hand with the reason we buy cars like this. However, it does come with Adaptive Suspension is a £390 optional extra.
In terms of the engines, both the petrols are taken from the MINI Hatchback. As such, they're engaging and full of life. The 1.5-litre turbocharged 135bhp engine sits at the bottom of the range, and can do 0-62 in just under 10.0 seconds. A 2.0-litre turbocharged 192bhp petrol is much faster, and can do 0-62 almost 2 seconds better.
The diesels are okay too, but we recommend that you overlook the breathless 1.5-litre unit that runs out of puff pretty quickly. Its 116bhp just isn't enough for a people carrier. It can carry a person maybe, but not seven! It takes 11.4 seconds to do 0-62.
We like the 218d model. It's powered by a big 2.0-litre diesel engine that's refined and smooth at speed, and doesn't make too much noise. A 220 xDrive model is also powered by the 2.0-litre diesel, but it's bolstered by four-wheel-drive. It's a quick engine, and can do 0-62mph in 7.8 seconds.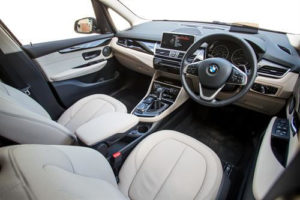 This is a reasonably affordable car, but if you're wondering why it's priced higher than, say, the S-MAX, one of the reasons is undoubtedly its classy interior. The cabin is well-appointed, and as usual with a BMW, the materials are durable and the look is stylish.
The 2 Series GT also gets the brands top-notch iDrive infotainment system, which is intuitive to use, and also means there is no need for button clutter. All the buttons and switchgear are clearly of a top quality, and the interior on the whole looks like a place that is built to last. This is exactly what you need from a people carrier.
iDrive comes as standard across the range, as does twin-zone climate control, sat-nav, DAB radio, and rear parking sensors. The Luxury model adds a different 17" alloy wheel design, and a wood finish for the dash, while the M Sport treats you to bigger 18" alloys, and an M-leather multifunction steering wheel.
With that said, the base-level Sport model should be enough for most buyers.
This is a brand new 2017 model, so it hasn't yet been crash-tested by EuroNCAP. However, the smaller Active Tourer bagged 5/5, and we expect this to follow suit. Standard safety kit includes traction control and electronic stability systems, Driving Assistant and lots of airbags.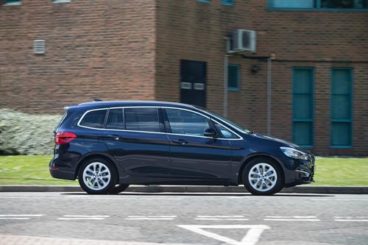 Costs Of The BMW 2 Series Gran Tourer
Prices for the new car start out from £25,000 and rise to £34,800. For more information on our leasing deals, check out our page here.
In terms of its running costs, it would be easy to assume that such a big car as this would fall down at this point. Things have been going too well! However, we're pleased to say that's not the case. The engines are shared with the economical MINI Hatchback, and are impressively affordable to keep on the road.
The turbocharged 1.5-litre petrol engine, for example, can average fuel economy returns of 53.5mpg, and emits only 123g/km of CO2. Then there is the bigger and quicker 2.0-litre petrol that's good for 44.8mpg, and costs £145 to tax each year. Not bad. You will lose a bit of mpg if you go for the 8-speed automatic 'box, but the differences are marginal.
The diesels are obviously much cheaper to run, with the small 1.5-litre making a good case for itself with returns edging toward 70mpg. It's a clean, cost-effective engine.
Pros and Cons Of The BMW 2 Series Gran Tourer
Superbly Put Together
This is such a well-made car that finds BMW at the top of their game.
More Desirable Than A Ford
Ford's are often seen as the ultimate family car. But if you want more desirability to go along with all that usefulness, this makes sense. You'll just have to be prepared to spend a bit extra.
Spacious
With 9cm more boot space than in the 2 Series Active Tourer, as well as a longer wheelbase, the GT is a roomy car that accommodates families well.
Looks Dull
The rear looks a bit awkward, and it seems that BMW have tried to splice together its handsome, upmarket aesthetics with a family-friendly, cheerful face. Not really worked.
Expensive
Yes, it's more desirable than a Ford. But you'll have to pit desirability against costs. Is the premium worth it?
BMW 2 Series Gran Tourer vs Toyota Verso Estate vs Toyota Prius + Estate
Let's see how the car measures up against its rivals in the comparison section of our BMW 2 Series Gran Tourer.
BMW 2 Series Gran Tourer vs Toyota Verso Estate
The new Toyota Verso Estate is a spacious MPV that knows this sector inside out. Which means that it knows exactly what you want. It's been around for a years now, and has established trust with buyers who need a spacious, versatile and affordable people carrier.
The Verso might lack the BMW's badge appeal. But in a sector where trust and usability is much more important, this car might hold all the aces. It's not a joy to drive in the sense that it offers a freewheeling driving experience, but it is a joy to drive in the sense that it provides a hassle-free, comfortable way for you and your family to get out and about.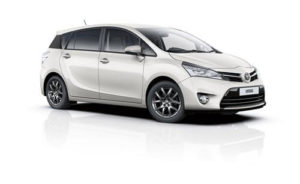 In terms of the engines, there isn't much to choose from. A solitary 1.6-litre diesel engine kicks things off at just £20,200. It's green-minded, and comes with an accurate six-speed gearbox. However, it's a bit bleary-eyed when you first wake it up, and the engine gets a bit weary at lower revs.
A 1.8-litre petrol is a bit underwhelming, but we like the bigger 1.6-litre petrol that matches the cars character and weight well. It performs heroically, but it does demand the most running costs.
Speaking of running costs, economy is decent. The diesel is naturally the cheapest engine to run, and is capable of averaging fuel economy of 62.8mpg while emitting 119g/km of CO2. This makes it much more frugal than the outgoing 2.0-litre diesel. The petrols are costlier, with mpg figures hovering in the 41.5mpg region. Resale values are good.
Inside, you can't expect as much interior quality as you'll find in the more expensive BMW. However, thanks to the stiff suspension setup, the car is composed and stable. Ideal for families with small children.
The seats are adjustable, which makes it easy to get as comfortable as possible, while the dash is simple, clean and super easy to get to grips with. Build quality is good, and the car is solidly put together. But while it will cope with everyday family life on the road, there isn't much luxury to be had.
Still, it's practical. The seats can be arranged in a number of combinations (32!), and there are lots of storage areas. However, the glove boxes could do with being bigger. The car comes with five seats as standard, but you'll find two more in the boot that can be set up if you need room for more kids.
But because of that extra row of seats folded into the boot floor, the boot itself can only offer 440-litres as standard. Prop up those extra seats, and it shrinks to just 155-litres.
Price:
BMW – £25,000 – £34,800
Toyota – £18,500 – £25,700
BMW 2 Series Gran Tourer vs Toyota Prius + Estate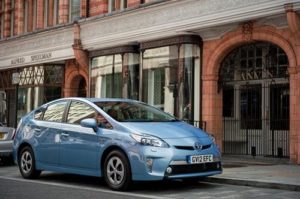 The brand new Toyota Prius + Estate is another firm family favourite that the BMW must topple if it's to win you over.
The Prius + Estate is efficient, economical and practical. For large families who like the fact that Toyota is a brand they can trust it's been the go-to car down the years. Like the Verso, it offers an easygoing driving experience. It's never going to knock your socks off – instead, it's smooth, comfortable and quiet.
The 1.8-litre petrol engine combines with the electric motor to deliver up to 134bhp, which is enough to get the car from a standstill to 62mph in 11.3 seconds. That might feel a tad sluggish, but light steering as well as smooth delivery from the automatic transmission ensure the Prius + is simple to drive.
Moreover, it never feels as big or as heavy on the road as you might expect.
Low running costs are one of the main reasons we buy cars like this. If you opt of the entry level T4 model, you can expect fuel economy returns of almost 70mpg. This variant is also free to tax. The T-Spirits emissions, meanwhile, nudge over the 100mpg mark, which means there will be  small yearly road tax bill to pay.
The Toyota Prius + certainly can't claim to be a looker, but inside it's got a friendly and spacious cabin. Toyota have worked hard to improve its aerodynamics, which means it's quieter than ever inside, and even on the motorway you'll barely hear a sound. The seats are super comfy, and the T Spirit variant even gets some luxuries, such as leather-trimmed seats. It's enough to make the BMW jealous!
The Prius + boast better interior space than last time around, thanks to lighter, smaller batteries which take up less space. This means that all seven seats offer a good amount of room, with adults even able to squeeze themselves into the back row. The boot, however, is small and measures just 200-litres with third row of seats up and 505 with them down.
Price:
Prius + – £27,000 – £31,200
Verdict Of Our 2017 BMW 2 Series Gran Tourer Review
Is this the premium-badged family car you've been waiting for? Very possibly. It easily looks like BMW's most personable car, but has the desirability factor that elevates it above the usual mainstream pickings. It's spacious, handles well, and offers just as much practicality as its popular, cheaper rivals. The new BMW 2 Series Gran Tourer is a sweet, upmarket family car for anyone who wants something different.
Want to learn more? Click below to view the review for the competitors in this article…
Want a great deal on this car?
Fill out the form below with your details and one of our vehicle experts will be in touch within one working day with prices and finance options.

Latest posts by Will Titterington
(see all)