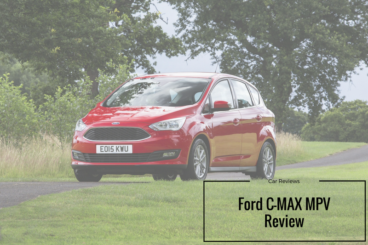 Overview Of The Ford C-MAX MPV 
Ford are the MPV kings, and the Ford C-MAX MPV is one of their smallest – but most fun. It seats five people, its cheapest engine returns over 74mpg, and it's great to drive. For growing families, it's a star. Kids won't have a problem telling their mates their parents drive a slick C-MAX, and you'll find it does all you need without any hassle.
What we're sure you'll love about the C-MAX is that it's got the Ford Focus' driving dynamics. So while it's bigger than the Focus, it offers just as much fun on the road.
The suspension is on the firm side, but this at least means body lean is minimal. The steering is responsive and precise. And all models get torque vectoring, which improves grip at the right moments.
The state-of-the-art EcoBoost engines are the most entertaining. They're nice and growly without ever being gruff, and they've got enough power to make overtaking easy.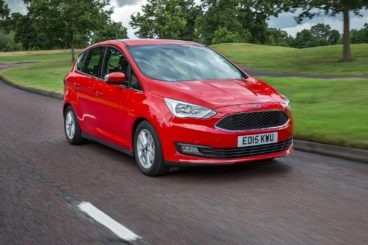 They're also ideal if you're a low mileage driver who doesn't mind the initial cash outlay.
However, the 98bhp 1.0-litre variant is a tad slow. It does 0-62 in 12.6 seconds, while the bigger 123bhp does it in 11.4 seconds. You can put your foot down for more thrills, and they're easy to come by. But they will harm fuel economy significantly.
A 1.6-litre non-turbocharged petrol engine is also available. We can't make a case for it, though. It's more expensive to run than the EcoBoost units, and slower than the 123bhp.
The diesel engines are drivable, economical and worth a look. The 1.5-litre 118bhp is our top pick, and it can do 0-62 in 11.3 seconds while returning 68.8mpg. For more pace, the 2.0-litre 148bhp diesel is well worth considering. It returns 64.2mpg, and can get you from rest to 62mpg in just 9.5 seconds.
It's a hefty old engine that has good pulling power from down low. It's refined as well, and won't make motorway noises unbearable. If you can keep your kids happy and quiet too, it'll be total bliss!
The problem with the diesel engines is they're more expensive to buy outright than the petrels. Moreover, if you want to add an automatic transmission, you'll have to fork out another £1,300.
Ford C-MAX MPV Interior, Design & Build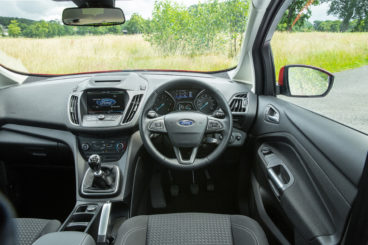 For the C-MAX, Ford has dispensed with their usual entry-level trim and opened with the Zetec. This means a higher-priced base-level model – but it also means a more attractive interior.
There is a drawback, though. Because while the dashboard has some really useful controls, not all of them are easy to use. Worse still, there are a few that are positively tiny. All interiors come with a neat display screen, which starts small in the Zetec and becomes bigger as you move up through the trims.
In the Zetec, the screen measures just 4.2". But while that sounds too small, Ford have squeezed both music player and Bluetooth connectivity onto it, as well as voice control.
In terms of styling, the cabin is classy. The design is smart and it's good to look at. It's also well-appointed and comfortable.
Practically speaking, this is a good car. The boot measures 432-litres when all the seats are in place. Fold the rear seats and you can extend that to 1,684-litres. That's almost unrivalled anywhere else. However, to get that sort of space you need to specify the standard tyre repair kit and not the spare wheel.
Space is a bit tight in the back if there are three adults in there. Legroom and headroom are both decent, though. Storage spaces include open storage bins and a neat sliding armrest, while an overhead console is a cool touch.
Equipment & Safety Of The Ford C-MAX MPV
Because the Zetec opens the range, standard kit is good. All models get a heated windscreen, a DAB radio and air conditioning. The Zetec also gets 16" alloys, fog lights and body-coloured door mirrors.
The Titanium model adds cruise control, twin-zone air conditioning, electric windows and an 8" display screen. The range-topping Titanium X, meanwhile, gets a panoramic sunroof, leather upholstery, and bi-xenon headlights.
The new C-MAX hasn't yet been crash tested by EuroNCAP. Its predecessor scored 5/5, and we expect this to follow suit. Its standard safety kit includes a raft of useful features, such as electronic stability control and anti-lock brakes. You also get 6 airbags, emergency braking assistance, and traction control.
Costs Of The Ford C-MAX MPV
Prices for the new car start out from £19,650 and rise to £28,000. For more information on our leasing deals, check out our page here.
In terms of its running costs, start-stop tech helps the EcoBoost models to stay affordable. The smallest 1.0-litre 98bhp variant returns 55.4mpg and costs just £30 per year to tax.
The cheapest engine to run, though, is by far the 1.5-litre 104bhp diesel. It's good for a 74.3mpg economy, and is free to tax. Few engines will better that in this market.
However, the 1.5-litre 118bhp diesel engine is a better all-rounder. It's good for 68.9mpg, and yearly road tax is £20.
Pros And Cons Of The Ford C-MAX MPV
Drives Like A Hatchback
It might be bigger than the Ford Focus, but its handling is sharp as a tack.
It's Efficient
The state-of-the-art EcoBoost engines are helped by stop-start tech. They can return up to a 55.4mpg economy, while the cheapest diesel is good for almost 74.5mpg.
Practical
It's not the most spacious MPV. But space isn't everything when it comes to practicality. The C-MAX is well-packaged, and
Poor Insulation
Exterior noises will barge into the cabin. This can be annoying when you've got kids and passengers who want to snooze.
Old Fashioned Cabin
The C-MAX hasn't yet got with the times inside, and there are more modern-looking rivals.
Ford C-MAX MPV vs Citroen C3 Picasso MPV vs Vauxhall Meriva MPV
Let's see how the car fares against its rivals in the comparison section of our Ford C-MAX MPV review.
Ford C-MAX MPV vs Citroen C3 Picasso MPV
The new Citroen C3 Picasso is an easygoing family car. It offers a hassle-free driving experience, lots of practicality, and is distinctively styled.
Thanks to power steering and fantastic visibility, it's really easy to get out and about in the C3 – in the town at least. Out of the city streets, it's a bit of a fish out of the water. It will lean in corners, and it feels a bit floaty at times.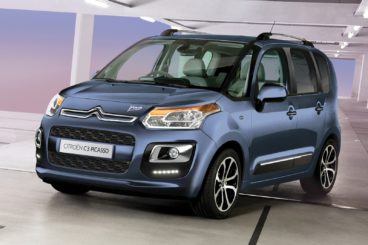 The suspension has been softened so that the car is able to soak up bumps and lumps well. But because the car is so tall, you will feel those gusts of wind when they hit.
There are just two engines available – one diesel and one petrol. The petrol engine is cheaper to buy outright, but requires a lot of hard work from you on the motorway. On a full load, this 1.2-litre unit doesn't feel as capable as the diesel.
In the town, though, it's at home. It's lively, and can do 0-62 in less than 12.0 seconds. It's also smooth and quiet and makes for a good cruiser.
The sole diesel engine is a BlueHDi 100 power plant. It's the greenest in the range, and just as quiet as the petrol. It's also performative, and is a better choice if you'll be taking the family out on longer journeys.
It is, however, a tad sluggish to get started. It takes 13.3 seconds to do 0-62, and doesn't ever feel as urgent as the petrol model. However, the ace in its pack is its 70mpg economy. It also costs just £20 a year to tax.
The petrol model is a grand cheaper to buy, but returns 56.5mpg at best. Which engine you go for will come down to how you plan to use the car.
The interior is hit and miss. It's fairly easy for the driver to get comfortable, thanks to an adjustable seat and steering wheel. The boxy shape of the car means plenty of cabin space, and the modern styling is on the money.
However, some of the controls on the dash are fiddly and hard to live with. Moreover, the dashboard doesn't sport the smartest design, and looks dated. It also feels that way too.
Practicality takes a bit of a hit, too. Yes, there's lots of interior space, and visibility is good. Thanks to power steering and rear parking sensors, the C3 Picasso is also an easy car to park. But there aren't as many storage spaces as we'd like. The glove box is too small, and the driver and passenger don't get a storage area between their seats.
The boot, meanwhile, measures 385-litres, which is a highlight. You can extend it to 500 by pushing forward the rear seats.
Price:
Ford –
Citroen – £17,100 – £19,200
Ford C-MAX MPV vs Vauxhall Meriva MPV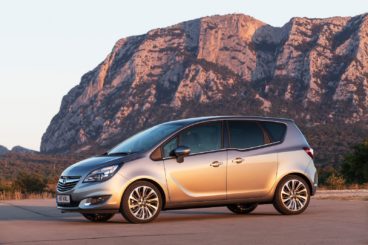 The new Vauxhall Meriva MPV is a handsome family car. It sports mature looks, a high-quality cabin, and lots of versatility and practicality.
We like the way the Meriva drives. Its steering is responsive, and the suspension cushions you from broken roads. And despite being another tall MPV, it doesn't lean too much in bends. It's comfy too.
There are plenty of engines to choose from, including three kinds of petrol. A 1.4-litre 99bhp non-turbocharger is a tad underwhelming, though. It doesn't get from 0-62 until the 14.0 seconds mark, and needs you to work it hard – very hard.
An 118bhp is a better choice. It gets a turbocharger, which gives it more oomph, and it can do 0-62 in 11.3 seconds. It's smooth, quick and economical. The 138bhp variant adds almost sports car prowess, taking just 10.0 seconds to do 0-62. It's more expensive and seems a needless choice for a car such as the Meriva MPV.
Only one diesel engine is available, a 134bhp 1.6-litre CDTi. It's a strong performer, and can do 0-62 in 10.0 seconds, too. Unlike the petrols, though, it can't be paired up with an automatic gearbox.
Still, that won't harm its economy, and this frugal power plant can return 64.2mpg. It costs just £20 a year to tax, and makes sense for high-mileage drivers.
The 118bhp petrol is just as cheap to run as the 99bhp, so is easier to recommend. Both return 47.9mpg, and neither costs more than £120 to tax.
The interior is mostly excellent. The dashboard is modern, and comes with crisp, easy-to-find and use controls. The gear stick is well positioned up high, and the driver's seat and steering wheel are adjustable. We can't fault the materials either. They're all of a high quality.
There are just a few minor criticisms. The centre console suffers from excessive button clutter, and will take some time to get used to. Meanwhile, the cabin isn't well insulated, which means that road and wind noise will be an issue.
It's a practical family car, though. The innovative rear-hinged back doors make it so easy to access the back seats, though we'd still prefer sliding ones. In tighter parking spots, for example, access will still be tricky.
With thirty-two cubby-holes inside the cabin, it should be easy for families to keep the Meriva tidy. Vauxhall has added their FlexRail system for more versatility. This is a rail that runs between the two front seats. It comes with a variety of modules installed that slide backwards and forward.
Move up the trims and you get extra storage space beneath the 2 front seats. Meanwhile, the boot measures almost 400-litres, which should be enough for most buyers.
Ford offer a lot of MPV's, so it's not always easy to know where to start. This one is smaller than the Grand C-MAX, and doesn't get 7 seats.
It is, however, as much fun to drive as a hatchback. Moreover, the new Ford C-MAX MPV is practical, stylish, and can transport your family from A to B and beyond with low running costs, comfort and a surprising amount of entertainment.
Request a call back from one of our Vehicle Experts

Latest posts by Will Titterington
(see all)