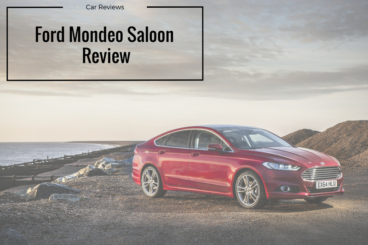 Review Of The Ford Mondeo Saloon
Want an affordable alternative to exec German saloons? Perhaps you want luxury but can't afford a Mercedes. The new Ford Mondeo Saloon is a classy alternative.
In 2017, it's back and it's got serious road presence. It's also quiet, relaxed, and offers modern, efficient engines. However, it's not as fun to drive as it used to be.
The Mondeo used to be a common sight on British roads, until the arrival of SUVs and crossovers killed it off. It was so popular that the term "Mondeo Man" was created! In 2017, its desirability factor has been turned up a notch, thanks to the fact that Mondeo's are rarely seen anymore. It's now also much bigger, and represents a seriously astute rival to more robust SUVs.
OSV takes a closer look at what it's all about with our Ford Mondeo Saloon review.
The Mondeo has grown up. Whereas in previous years it was fun to drive, it's now more of a relaxed cruiser. The steering is heavier but quicker, and has significantly less feel. As such, you won't feel as confident as you approach bends with haste.
The suspension has also been softened, as Ford have worked hard to water down the driving experience. It's a comfortable car, but it will lean in corners.
In terms of its engines, a powerful 2.0-litre EcoBoost petrol unit looks good on paper. OSV's top pick, however, is the smaller 1.5-litre EcoBoost. It derives a good amount of power from most speeds, and has a sporty engine note. It's also quiet and smooth on the motorway, and gets you from rest to 62mph in almost 9.0 seconds.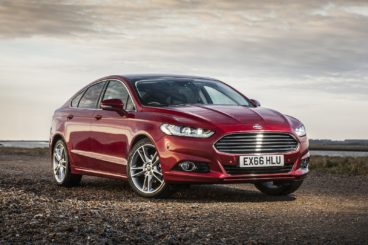 In an unusual move, Ford have decided to include a small 1.0-litre petrol engine in the line-up. Normally, such an engine would be too small for a car as big as this. And while it can haul this car along, it does feel overwhelmed by the whole thing. On a full load, it will struggle.
A 2.0-litre diesel engine that develops 178bhp was a bit of a disappointment. It can do 0-62 in 8.3 seconds, but doesn't feel as fast as that. It stalls easily, which can make you nervous. We prefer the 148bhp variant of the same-sized engine. It's not as fast, but it's more economical.
The quicker 2.0-litre bi-turbo 207bhp diesel engine is a solid choice if you can afford it. Available with the Vignale model, it's effortlessly smooth and can do 0-62 in 7.9 seconds. For a diesel, it's surprisingly quiet on the motorway.
There is a hybrid engine available, too, but it feels old. It's also paid up with a noisy CVT automatic transmission. Despite the favourable running costs, it's worth overlooking.
The Ford Mondeo Saloon Interior, Design & Build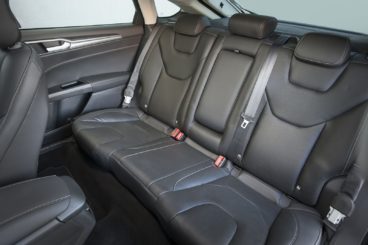 Ford seem dead set on taking on the German exec saloons this time around. To this end, they've massively improved the Ford Mondeo's exterior and interior. On the outside, a swanky corporate grille is so ostentatious that it's been compared to Aston Martin. And whereas the old Mondeo looked dowdy and mimicked a beaten-down office worker, the new one has been galvanised. It looks poised, elegant and even commanding.
Inside, the Ford's cabin has much more luxury and quality than before. A soft-touch instrument panel is a highlight, as are the laser-cut leather quilted seats. There are also lots of handcrafted touches that elevate this car above its nearest rivals.
There are still caveats, though. For example, the quilted leather seats look great, but they're not actually that comfortable. Moreover, despite the obvious quality on offer, Ford still haven't been able to match VW's elegance.
Still, we like the new 8" infotainment screen that comes as standard, and the cabin is well-insulated.
The car is much bigger than last time (87mm bigger), which means more interior space. Even taller adults will have enough legroom room in the rear, with headroom the only issue. Space up front is excellent. If you go for the range-topping model you get a ten-way adjustable driver's seat. This seat is also heated. Talk about luxury!
If you want to create the illusion of even more space, add the optional panoramic sunroof. This really will make the car feel like an exec German saloon.
The boot, meanwhile, is bigger than last time, and now measures 550-litres. That's still not class-leading, but it should be enough for most buyers. Moreover, its large opening is appealing.
Equipment & Safety Of The Ford Mondeo Saloon
Standard kit levels are good, and include an 8" colour display, 16" alloys and a DAB radio. Entry level models also get cruise control, climate control and an alarm.
The Zetec trim adds electric windows all-round, sportier touches, and a heated windscreen. The Titanium model comes with sat nav, automatic wipers and lights, and swanky ambient cabin lighting.
The ST-Line is for anyone who wants a sportier Mondeo. It comes with a black honeycomb grille, a sporty body kit, 18" alloy, and sports seats.
In terms of safety, a lot of the most useful safety features are available as options. These include autonomous emergency braking, an adaptive cruise control. Meanwhile, traffic-sign recognition and lane-keeping assistance are reserved for the range-topping models.
Costs Of The Ford Mondeo Saloon
Prices for the new car start out from £21,500 and rise to £33,800. For more information on our leasing deals, check out our page here.
In terms of its running costs, having petrols in the line-up will bump mpg figures up a bit. According to Ford, the 1.0-litre EcoBoost engine is still good for 55.4mpg. It also emits just 119g/km of CO2. But while the emissions will stay the same, the economy will plummet in the real world. Expect to average returns of 35mpg at best.
We prefer the 1.5-litre EcoBoost unit, which is good for 48.7mpg, and costs £130 a year to tax.
The diesels are where you'll make real savings, though. The 1.5-litre is the greenest, and can return almost 79mpg. It's also free to tax if you pair it up with fuel-saving tech. For such a big car, that's excellent. The 2.0-litre 148bhp diesel, meanwhile, adds more power and can still return 68.9mpg economy.
Pros and Cons Of The Ford Mondeo Saloon
Frugal Diesel Engines
The cheapest diesel is the 1.5-litre power plant. It can return 78.5mpg, which is staggering for such a large saloon.
Affordable Alternative To Exec German Saloons
It's a more affordable rival to the exec German saloons. Although Ford isn't looking to take customers away from BMW etc, they want to give mainstream buyers more luxury.
Handsome
When did the Mondeo get so good looking?
Heavy Steering
It's better looking than last time, but not as much fun to drive.
Poor Hybrid Option
It's well worth overlooking. Doesn't matter how cheap to run it is, it's a dated model.
Ford Mondeo Saloon vs Volvo S60 Saloon vs Vauxhall Insignia Saloon
Let's see how the car fares against its rivals in the comparison section of our 2017 Ford Mondeo Saloon review.
Ford Mondeo Saloon vs Volvo S60 Saloon 
The new Volvo S60 is a seriously handsome car that will appeal to the more debonair among you. It's comfortable and – like the Ford – represents a solid alternative to a German exec saloon.
The S60, however, isn't quite as sharp as those well-oiled German cars. It's handling is a bit imprecise at times, and its manual transmission is jerky. There is grip, but there is also body lean. Despite these drawbacks, it's still entertaining.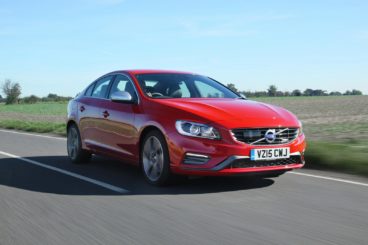 In terms of its engines, the diesels should be responsive and powerful enough for most of you. The D2 is the most popular. But while its 118bhp means it's got plenty of pulling power, the heftier D4 is a shrewder choice. It develops 187bhp, and is the most economical in the range.
This D4 comes with the jerky manual transmission as standard. For an extra £1,200, you can pair it up with an 8-speed automatic gearbox. And we really recommend that you do just that.
There is a T4 petrol model available, but it isn't selling well. The reason? The diesel models are too good.
The T4 is actually cheaper than the same-sized diesel and still can't compete for sales. For high-mileage drivers, it's an engine that just makes no sense. Still, it's the quickest model available, and can do 0-62 in just 7.2 seconds.
That might be tempting you, while its economy might make this a harder decision still. Capable of returning 50.4mpg, the T4 is an impressively affordable car for low-mileage drivers.
Still, the diesels steal all the headline when it comes to running costs. The D4, for example, benefits from stop-start tech, and can return 72.4mpg. It's green, too, and emits just 102g/km of CO2.
The interior is a big strength of the Volvo S60's. The cushioned suspension makes for pillow-like ride quality, while insulation is excellent. On the move, the engines are hushed, while tyre and wind noise is also well suppressed.
The seats, meanwhile, are massive. They're almost like an armchair, and this is great for comfort. The dashboard is distinctively designed, and the controls are simple and easy to use.
Practicality, though, is hit and miss. There is plenty of room for five adults to sit in comfort, and head and legroom isn't an issue. But the 380-litre boot is on the small side, while its opening makes it tricky to load bigger items. Worse still, the rear seats can't be folded totally flat.
Price:
Ford – £21,500 – £33,800
Volvo – £21,700 – £35,000
Ford Mondeo Saloon vs Vauxhall Insignia Saloon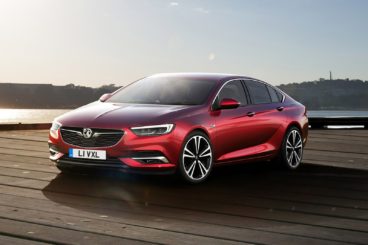 The new Vauxhall Insignia Saloon suffers from a dull image. However, it does what families need it to do. It's comfy, easy to drive, and spacious.
Ford have made their Mondeo more comfortable, and perhaps they did it to rival cars like this. The Insignia is a super relaxed family car that proves its worth on the motorway. On longer journeys, you sure will be thankful that it copes with stretches of miles with ease. When it comes to cruising capability, the Insignia wins.
It's not much fun, though. Feedback is absent, and it leans more than the Mondeo.
In terms of the engines, you have a choice of 4 kinds of petrol and a few types of diesel. The 1.4-litre is the most realistic petrol choice, as it's fuel-efficient. A 2.0-litre turbocharged petrol is quicker, for example, but is costly to run and has high emissions. It's worth looking at if you can afford it, and like its 0-62 time of 7.5 seconds.
There is an even quicker petrol engine, in the form of the VXR SuperSport model. This unit develops 321bhp, but makes little sense in this sector.
The diesels are the most popular. A 2.0-litre CDTi is OSV's top pick, and it can do 0-62mph in 9.4 seconds. That's respectable, and it returns fuel economy of 60mpg. For a quieter engine, the 1.6-litre Whisper diesel is an interesting choice. It's over a second slower than the 2.0 CDTi, but makes for a hushed motorway cruiser. Moreover, it can keep going until 130mph, so has some mettle.
Inside, the Insignia is well put together. It's not got quite as much quality as the Mondeo, but we can't argue with its fit and finish. Its design is smart, a huge touchscreen brings it up-to-date, and there are fewer buttons on the centre console. The digital displays are easy to navigate, too. The cabin, moreover, is not short of soft-touch plastics.
The Insignia Saloon accommodates five adults well. Its boot measures 550-litres, which makes it a tad smaller than the Mondeo's. It can be extended to 1,470-litres. Like the Ford, it comes with a big opening that makes it easy to load bigger items.
Price:
Vauxhall – £17,500 +
Verdict Of Our 2017 Ford Mondeo Saloon Review
Remember that kid in high school who looked dowdy, spotty and underfed? You saw them recently and couldn't believe how handsome they now look. The 2017 Mondeo has gone through a similar transformation. At the turn of the new Millennium, it looked down-at-heel and ready to retire. Now, it's big, bold, slick and suave.
The desirability factor is there, the interior luxury is there, and so is the practicality. Less expensive than esteemed German rivals, the Ford Mondeo Saloon is an excellent car.
Request a call back from one of our Vehicle Experts

Latest posts by Will Titterington
(see all)