Review Of The Mercedes-Benz V-Class Diesel Estate
The new Mercedes-Benz V-Class Diesel Estate is what you'd called a luxury people carrier. It's got enough room for eight people in the Extra Long variant, swathes of interior space, and lots of top-notch materials.
In other words, it's ideal for families who want to travel to their five-star hotels in style. In even other words, it's basically a limo but on a bigger scale. Unlike your typical van-based car, it's comfy, quick and even kinda fun to drive.
OSV takes a closer look at what it's all about with our 2017 Mercedes-Benz V-Class Diesel Estate review.
Some buyers get scared off when they see the words "van-based," – especially if they're paying around £50,000 for a people carrier. But while there is no doubt that you feel its van roots, the V-Class Diesel Estate is noticeably more comfortable than your average large car of this type.
So there are compromises – but not too many.
Oddly, the more passengers that are in the car, the softer the suspension is. With barely anyone inside it, the V-Class will crash over broken surfaces. Fill it with people, and you all benefit from a smoother experience.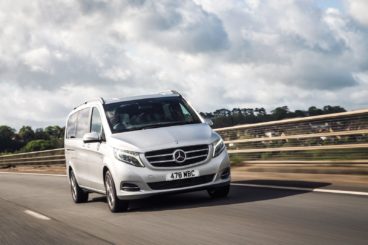 The steering system can't really be compared to an out-and-out everyday car like, say, the Ford S-MAX. But if we were to compare it, we'd say that it's not as responsive. Again, this is another nod to its roots.
Fortunately, Mercedes added its Agility Select system as standard, and this modifies the steering and system of a more relaxed ride. It's not the most fun vehicle to drive, but it's also not the blandest people carrier out on the road – far from it, in fact. For trips to the golf club, airport and hotels, it's a willing and pleasant-to-look-at companion.
There are two diesel engines on offer. Both are variants of a 2.1-litre unit, with the less powerful developing 161bhp and the more powerful developing 188bhp.
The smaller engine powers the V220 model, which does 0-62 in 12.0 seconds. The V250 model is much swifter, covering the same sprint in just 9.8 seconds. That's enough to keep up the pace with traffic, and it has a top speed of 122mph – as does the smaller variant.
We like the latter one best. It's powerful, has a good burst of acceleration, and responds when worked hard. However, both engines are noisy, which is at odds with the overall luxury feel of the vehicle. Both models come with a sluggish 7-speed automatic transmission.
Mercedes-Benz V-Class Diesel Estate Interior, Design & Build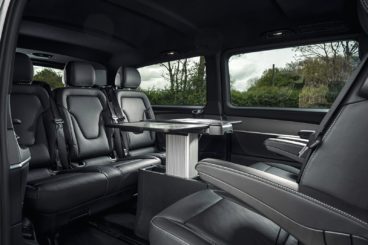 Mercedes as a brand are known for their luxury and plush interiors. Happily, they've enhanced that reputation here. Despite being based on a van, the V-Class Estate gets plenty of upmarket trimmings.
The dashboard, for example, is similar to what you'll find in other models. It's styled elegantly, and features robust dials that should be able to cope adequately with family life on the road. There will be the occasional rattle now and then, but most of the time the cabin stands firm and build quality is good.
The instruments are clear and easy to read, and you get a readable colour trip computer screen, too. The steering wheel houses a few buttons, while more are displayed on the dashboard itself. All are well-labeled, and it shouldn't take you long to get used to things.
A touchpad and rotary dial, meanwhile, takes care of the sat-nav and a few other functions.
Despite having up to eight seats (seven in the Long variant), there is plenty of interior space available. It's positively cavernous, and if you're not satisfied, you probably need a minibus.
Electric sliding doors mean that access is easy, a self-parking system and a rearview camera make parking a cinch, while a 360-degree camera (£335) is a useful optional extra.
The rear seats sit on rails, and can thus be slid back and forwards at will. All passengers – even those in the very back – get lots of legroom, and each seat is supportive and comfortable. Storage space is good, and includes a decent-sized glovebox, numerous cupholders, and a big cubby upfront.
The boot, meanwhile, has 610-litres in the Long seven-seater version and – get this – 1,410-litres in the Extra Long eight-seater version.
Equipment & Safety Of The Mercedes-Benz V-Class Diesel Estate
Standard kit is good, with the entry-level model getting sat-nav, a parking system and leather seats. It also comes with tinted windows, alloys, roof rails, Bluetooth, and electric sliding doors for easy access.
The AMG Line adds bigger alloys, metallic paint, as well as some extra touches of interior luxury.
Costs Of The Mercedes-Benz V-Class Diesel Estate
Prices for the new car start out from £47,235 and rise to £53,965. For more information on our leasing deals, check out our page here.
In terms of its running costs, the V220 BlueTEC model returns as much as 45.6mpg according to Mercedes, and emits 163g/km of CO2. The V250d model, on the other hand, emits 166g/km of CO2, and averages 44.8mpg.
Insurance-wise, the V-Class Diesel Estate isn't cheap. The less powerful model sits in insurance group 33 out of 50, while the bigger model occupies group 38.
Pros and Cons Of The Mercedes-Benz V-Class Diesel Estate
Spacious
There are two body styles available, with the extra-long variant naturally offering more space. But both accommodate families well.
Efficient
Economy hovering in the mid-forties mpg might not seem like anything to pump the air over, but that's either better than or competitive with its rivals.
Comfy
It's always a massive bonus when a van-based people carrier is comfy.
Looks Like A Van
It's a Mercedes, but not as we know it.
Bit Noisy
There are refinement issues at high speeds.
Mercedes-Benz V-Class Diesel Estate vs Volkswagen Caravelle Diesel Estate vs Toyota Proace Verso Diesel Estate
Let's see how the car fares against its rivals in the comparison section of our 2017 Mercedes-Benz V-Class Diesel Estate review.
Mercedes-Benz V-Class Diesel Estate vs Volkswagen Caravelle Diesel Estate
The new Volkswagen Caravelle Diesel Estate is an impressive-looking people carrier that can boast plenty of interior space and family-friendly economy.
There are two diesel engines available, both of which are sized 2.0-litres. The 201bhp variant is the more powerful of the two, and it's got enough in its armoury to get you from rest to 62mph in 10.0 seconds.
The 148bhp variant is a bit sluggish, and takes 13.0 seconds to complete the 0-62 "dash". But it provides plenty of punch, feels smooth on the motorway and is a confident overtaker. It's also fairly quiet, can be specified with a slick 7-speed DSG automatic transmission, and always feels secure and stable.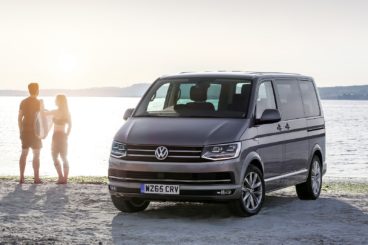 However, it's two-wheel-drive only, whereas the 201bhp is four-wheel-drive. Neither model, though, can claim to have more involving steering than the Mercedes. Both are vague, lacklustre and imprecise.
There isn't much to choose from between the engines when it comes to the economy. Both return around 40mpg after a long journey, although the smaller 148bhp can claim a small victory by being more efficient in and about the town. Moreover, the 201bhp is slightly more expensive to run simply because it has four-wheel-drive.
There is a significant difference when it comes to road tax. Opt for the 148bhp variant and you'll pay £185 a year, while choosing the 201bhp model will result in a yearly tax bill of £205.
Inside, the premium interior reflects the high price tag. The Volkswagen Caravelle might be based on a van, but it's impossible to tell once you're inside and settled. It shares a lot of its slick dials and switches with VW passenger cars, while the high seating position gives you a commanding view of the road ahead.
Rear and front parking sensors are thankfully included as standard, but it's a shame that a rear parking camera pack and a park sensor display are options.
Still, we have to give the VW Caravelle Diesel Estate 5/5 for practicality. There is an extraordinary amount of space available for seven people. Unusually, access is easy for the rear seated passengers via sliding doors, but trickier for those up front. Storage space is in abundance, while the seats offer lots of support and comfort.
In a useful touch, the second row of seats can swivel a whole 360 degrees so that passengers can either face the front of those behind them. We think it's a great feature.
Meanwhile, you can remove all the back seats to improve boot space. Unfortunately, we can't tell you by how much, as VW hasn't released an official boot volume figure.
Price:
Mercedes – £47,235 – £53,965
Volkswagen – £39,500 – £51,600
Mercedes-Benz V-Class Diesel Estate vs Toyota Proace Verso Diesel Estate
The new Toyota Proace Verso Diesel Estate is a big, bold van-based car that offers a massive amount of practicality – including up to nine seats.
It's a sizeable machine with a huge frame, and no doubt this – combined with its van roots – contributes to a lifeless driving experience. The 1.6-litre 114bhp diesel engine in particular is underpowered, and it takes 13.4 seconds to shift the Verso from rest to 62mph. On a full load, it will really struggle.
The bigger 2.0-litre 148bhp diesel engine hardly fares much better, taking 11.0 seconds to complete the 0-62 "sprint." However, its in-gear pulling power is strong, and it can keep up with the pack on the motorway.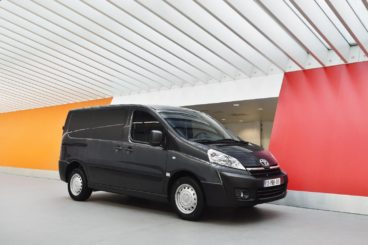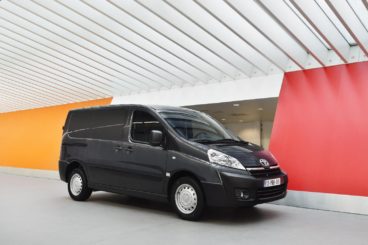 A 174bhp variant of the same engine is more like it. It does 0-62 in almost 10.0 seconds, and comes with a useful 6-speed automatic transmission.
Comfort-wise, the Toyota Proace Verso Diesel Estate fares reasonably well. It's comfier than the van on which it's based at least, but its steering is just as vague. It makes it hard to place the car with any great precision.
Running costs are par for the course. The smallest 1.6-litre 114bhp engine returns 54.3mpg and costs £130 a year to tax, while the bigger 2.0-litre 148bhp variant is good for 53.3mpg and costs the same to tax. The range-topping 2.0-litre 174bhp diesel engine, meanwhile, averages returns of the 47.9mpg economy, and costs £185 a year to tax.
Inside, the new Toyota Proace Verso is surprisingly a pleasant place to be. We wouldn't go as far as saying it's stylish or even super comfortable, but its design is simple as well as functional, and it feels like a cabin that's built to last. And because a number of the design touches and switch gears are borrowed from other Citroen and Peugeot models, the dashboard looks good on the eye.
Insulation is good at slow speeds, but the engine gets noisier in wintry conditions and at high speeds. The suspension also makes a din on poorer surfaces. The car comes with eight seats as standard, but a ninth can be added. As you can imagine, this makes it ideal for bigger families.
It's not just a functional and robust people carrier either. Choose the pricier VIP model, and you get treated to a truly luxurious seven-seater. All seven seats come with leather upholstery, a captain's chair for both the driver and their passenger, as well as a rear table.
The size of the boot varies according to the model you pick. The Compact version comes with a 224-litre boot, the Medium offers a 627-litre boot, while the Long version sports a massive 927-litre boot. You can easily remove the third row of seats for more space in all models.
However you look at it, the Toyota trumps the Mercedes for sheer practicality, if not for badge appeal.
Price:
Toyota – £26,760 – £45,150
Verdict Of Our 2017 Mercedes-Benz V-Class Diesel Estate
The new V-Class is a very attractive proposition. Sure, it's based on a van. But that means you get all the van-based qualities – space, power, and eight seats. Where the Mercedes-Benz V-Class Diesel Estate excels over its rivals is that it's added a high-end sense of luxury. You get the best of both worlds.

Latest posts by Will Titterington
(see all)