Review of the Nissan Note Hatchback
The new Nissan Note Hatchback might look smaller than a very small thing, but it manages to be roomier, more practical and more affordable to run than conventional Hatchbacks.
It's an impressive car that, thanks to a high roofline, boasts plenty of headroom. Meanwhile, Nissan has done a good job at getting the most out of its dimensions, ensuring that it's got more than enough room inside for all the family. It gets top marks for versatility, too, with its rear seats sliding forwards or backward with ease to boost either leg or luggage space.
OSV takes a closer look at what it's all about with our 2017 Nissan Note Hatchback review.
On-the-road prowess isn't really why people are snapping up the 2017 Nissan Note. That said, it manages to feel sportier than its predecessor.
(of course, that translates to not as comfortable)
Indeed, Nissan has firmed the suspension up this time around. There is a good reason for this, and it's that the last model was far too bouncy.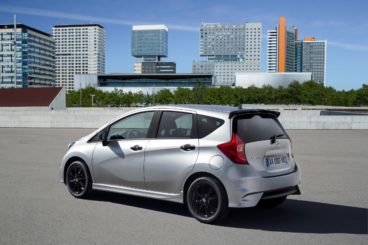 It's still an easy Hatchback to drive, thanks to its light controls and its engines that are shared with the likes of the Nissan Qashqai. On the whole, though, we can't give it 5/5 for performance. At the same time, its rivals are mostly in the same boat – pleasant but underwhelming to drive.
There isn't much to choose from in terms of the engines. Just three are available, a solitary diesel and two petrol. All are good picks, though. As mentioned, all are seen in other Nissan models, so they've got credibility. The 1.5-litre diesel engine develops up to 89bhp, and despite being slower than the biggest petrol on paper, actually feels quicker than it does on the road. It does 0-62 in just under 12.0 seconds.
It's a competent enough engine and is OSV's top pick. However, its flaw is that it makes a fair amount of noise when you put your foot down. Once on the motorway, it pipes down. It comes paired up with a 5-speed manual transmission, but can't be specified with an automatic 'box.
The smallest petrol engine might be a no-go for most buyers. Not only is it no fun at all, it takes almost two seconds longer than the diesel to complete the 0-62 "dash." It delivers just 79bhp, which means you will need to work it like a dog to get from A to B. That said, it's still competent and is affordable to run.
The quiet 1.2-litre DIG-S is a better choice, however. It does 0-62 in 11.8 seconds and can be specified with a CVT automatic transmission. However, doing so pegs its 0-62 time back to 12.6 seconds.
Nissan Note Hatchback Interior, Design & Build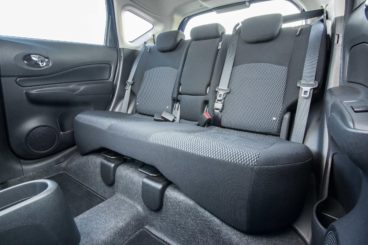 Where the Nissan Note Hatchback loses out to rivals is with its interior quality. Ride quality has been diminished too, thanks to the addition of firmer suspension. However, there is plenty of standard kit included, and the cabin isn't a bad place to be at all.
It's definitely pleasant to look at, and there are even soft-touch plastics here and there. Comfort isn't always guaranteed for the driver, as the seat adjusts up and down, but not out and in. Worse still, the entry-level model's driver's seat can't even adjust up and down.
For the most part, the buttons and dials on the dashboard are well-located. However, there are one or two that are more awkwardly positioned and therefore harder to reach.
Other than that small complaint, the Nissan Note is a practical car. It's certainly got more space inside than a regular Hatchback. However, its increase in size over a typical Hatchback means that it will be harder to park.
There is plenty of space upfront and in the rear, and even taller adults should have enough headroom, thanks to the high roofline. The rear seats slide back and forth to increase legroom. Slide them as far back as they do, and back seat legroom is impressive.
Storage space is good, and there are cubbies to be found here and there. The glovebox is large too. The boot, meanwhile, measures a respectable 381-litres. That makes it a hundred-litres bigger than last time. The boot comes with a false floor, and if you fold the rear seats you can extend its capacity to 1,465-litres.
Equipment & Safety Of The Nissan Note Hatchback
Standard kit is good. All models get USB ports, cruise control, remote central locking, a CD stereo and an MP3 player.
The Acenta trim adds 15" alloys, four speakers, and a unique body kit. The Acenta Premium models add sat-nav, a sliding rear bench seat, climate control and automatic headlights and wipers.
The N-Tec benefits from bigger 16" alloys, silver door mirrors, as well as a rear view camera. The range-topping Tekna Style model, meanwhile, adds part-leather seats and keyless start and entry.
In terms of safety, the Note was only awarded 4/5 when Euro NCAP crash-tested it. Competitors scored better, but its standard safety kit is comprehensive, and includes remote central locking, electronic stability control and a seatbelt reminder.
Safety Shield is an options pack worth adding. It comes with a lane-departure warning and a 360-degree camera.
Costs Of The Nissan Note Hatchback
Prices for the new car start out from just under £9,000. For more information on our leasing deals, check out our page here.
Running costs are good. The most expensive to run is the 1.2-litre 79bhp petrol engine, but even this can return as much as 60.1mpg. Meanwhile, it emits just 109g/km of CO2.
The 1.2-litre DIG-S petrol unit is a better engine all-round, and it returns an impressive 65.7mpg economy while emitting less than 100g/km of CO2. As a result, it's free to tax. However, if you pair it up with the automatic transmission, economy tumbles to 55.4mpg, and you will have to pay £30 a year in tax.
The 1.5-litre diesel engine is the cheapest to run, returning 78.5mpg and emitting 93g/km.
Pros and Cons Of The Nissan Note Hatchback
Surprisingly Spacious
Looks are deceiving. Despite looking small on the outside, the Note offers a huge amount of interior space.
Value For Money
Prices start out just shy of £9,000, while the most frugal engine returns as much as 78.5mpg economy.
Well-Equipped
All trim levels are well spoken-for, and the infotainment system is high-tech. It comes with internet radio, a few apps, and sat-nav.
Firm Ride
Nissan has firmed the ride up. Over lumps and bumps it's fine. On the motorway, it will jerk.
Drab Interior
It's functional and looks nice enough. It's just not very exciting.
Nissan Note Hatchback vs Kia Venga vs Fiat Tipo
Let's see how the car fares against its rivals in the comparison section of our 2017 Nissan Note Hatchback review.
Nissan Note Hatchback vs Kia Venga
The new Kia Venga is small, easy to park, and like the Note, it boasts plenty of interior space. The best bit? It comes with Kia's outstanding seven-year warranty.
The worst bit? Its on-the-road performance isn't up to scratch. It isn't much fun, and its engines all have their own flaws. Lifeless steerings and body lean are further issues that contribute to a decidedly mediocre driving experience.
The suspension is as firm as the Nissan's, too. While it does a decent job of cushioning you from bumps and lumps, it starts to fidget once it's out on the motorway.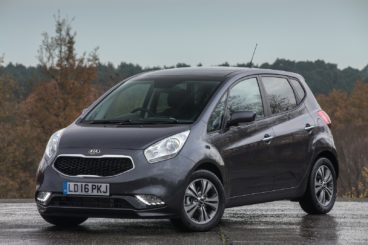 The engine range starts with a 1.4-litre petrol engine that delivers 89bhp and does 0-62 in 12.5 seconds. It's fine for everyday driving, but fuel economy compares unfavourably to the Note.
The bigger 1.6-litre petrol engine produces an impressive 123bhp and comes with ISG if you stick to the manual gearbox. Opt for the automatic, and you don't get ISG, which bumps up running costs. It can do 0-62 in 10.6 seconds, which not only makes it the quickest Venga – it also makes it way faster than any Nissan Note.
The diesels start with a noisy, underpowered 1.4-litre CRDi unit that takes 14.0 seconds to do 0-62. The alternative is a 1.6-litre CRDi engine which is also loud and feels underpowered. However, it gets from rest to 62mph in an impressive 11.2 seconds.
Running costs for these diesels are reasonable but hardly spectacular. Both return around 64mpg, and emit 115g/km of CO2.
The 1.4-litre petrol engine, meanwhile, returns 50.4mpg, while the bigger 1.6-lite petrol is good for 47.9mpg.
Inside, the Kia Venga Hatchback is not all that dissimilar to the Nissan Note. Interior quality is average, insulation could be better, and ride quality is hit and miss. But everything is well-laid out and, for the most part, nice to look at. It's also well equipped, with each model getting steering-wheel mounted controls, tinted glass and split-folding rear seats.
These help with practicality – a strong suit of the 2017 Kia Venga. There is enough room for everyone to get comfortable, with Kia doing just as good a job as Nissan in making the most of such compact dimensions.
Visibility is good, parking is easy, rear head and legroom are excellent, and the boot measures 440-litres. Indeed, the only criticism we have is that there could have been more storage spaces.
Price:
Nissan – £9,000 +
Kia – £12,555 – £19,130
Nissan Note Hatchback vs Fiat Tipo
The new Fiat Tipo is the most handsome car in this review. With its aggressive front-grille and sizeable dimensions, it looks like a car from the next class up.
It's got plenty to offer, but like the Nissan it's been built with comfort in mind, as opposed to a fun driving experience. As a result, its steering is vague and numb. However, its suspension setup is softer, but this means there is more lean in bends.
There is a lot to choose from where the engines are concerned. A pair of diesels kick things off. Out of the 1.3 and 1.6-litre units, we prefer the latter. While the former does 0-62 in 12.0 seconds, it can't be specified with an automatic 'box.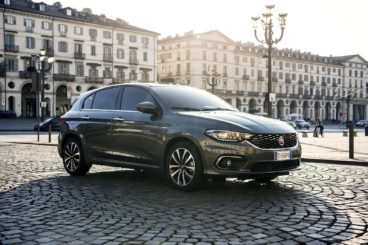 The 1.6-litre unit can, and it has enough power (118bhp) to thrust you from rest to 62mph in just 9.8 seconds. Unfortunately, the engine does get a bit loud when you put your foot down.
There is a trio of petrol engines to take your pick from. All come with four cylinders, but only the 1.6-litre unit can be specified with a 6-speed automatic gearbox. Both the 1.4-litre 94bhp and turbocharged 1.4-litre 118bhp are 6-speed manual only.
The smallest 1.4-litre engine does 0-62 in 12.1 seconds, while the turbocharged 1.4-litre unit does it in 9.6 seconds. The 1.6-litre engine, meanwhile, dusts it off in a respectable 11.5 seconds.
The petrol engines are quick and lively, but running costs are an issue. The 1.4-litre 94bhp unit is the cheapest to run, but it can only return 50mpg at best. The diesels, on the other hand, are far more frugal. Both average impressive returns of a 76mpg economy, and both emit less than 100g/km of CO2.
Inside, the Fiat Tipo is much the same as the Nissan and the Kia. It's logically arranged and pleasant enough to look at. But it lacks excitement compared to its sibling, the Fiat 500. Instead of colour and brightness, you're greeted by dark plastics. There are lashings of chrome on the more expensive models, but overall everything is functional and uninspiring.
Still, build quality is good, and we imagine that the Tipo Hatchback is a car that will last.
Moreover, practicality is good. Opt for the entry-level model, and you get oodles of space for an affordable price. The boot measures 440-litres, which is bigger than the Nissan and most rivals. Visibility is excellent, the seats are supportive and comfortable, and there are twelve storage spaces in the cabin. These include a massive glovebox and some decent-sized door bins.
For day to day families, the Fiat Tipo is a solid choice.
Price:
Fiat – £13,800 – £19,800
Verdict Of Our 2017 Nissan Note Hatchback
If you're looking for a spacious modern family car, the new Note ticks a lot of boxes. It's got more interior space than a conventional Hatchback, exceptional economy, a flexible seating arrangement, and a good-sized boot. As far as value for money goes in 2017, the new Nissan Note Hatchback is leading the pack.

Latest posts by Will Titterington
(see all)