Top cars for beauticians

Top cars for beauticians
Keeping us all looking and feeling our best, mobile beauticians are our own personal superheroes. Visiting us in the comfort of our own homes and making us over with glamorous looks ready for a big night out! They come in many forms, from nail technicians to masseurs and all have a variety of needs when it comes to their vehicle. Some beauticians have very little equipment, such as those specialising in make-up, eyebrows and lashes. Others must transport tables and bulky cases of tools to their client's homes.
Increasingly, more and more beauticians are offering a multitude of services so they can provide an all round service to their customers.
In this article, we'll take a look at a day in the life of a beautician and some of the key requirements a beautician will need from their vehicle. Then, we'll round up our chosen 5 top cars for beauticians
A brief day in the life of a beautician
An early start of 7:00am for our beautician so they can preen themselves in plenty of time to get to their first client. Nobody wants to be greeted by a dishevelled mess who is supposed to be making them beautiful. Image is important in this industry. Our beautician then consults the diary to see what treatments are on the cards for today.
Today's appointments include a full body massage, a set of eyelash extensions, a manicure and pedicure and finally a makeup job for a client who has a party to attend. Checking all of the equipment is working properly and is clean our beautician loads up the car. In goes the massage table, the case of nail equipment, the roll of makeup brushes, the mirrors and the makeup case. Then it's on route to the first client.
The first appointment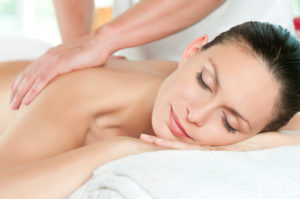 Our beautician turns up the radio and listens to the latest news in between their favourite songs. Knowing what is happening in the news gives some great conversation starters when talking to clients. Arriving at the destination it's time to unload the massage table and oils.
After giving an hour-long massage our beautician is undoubtedly tired. So they hop back in the car after re-organising their equipment and head to a shop for a coffee to go. Then it's onto appointment number two. On route, our beautician receives calls from other customers wanting to book appointments and pulls over to get them booked in the diary.
At the end of a long day, our beautician unloads their equipment ready to check it over before replying to emails and uploading the before and after pictures from the day to their social media channels.
Key features in top cars for beauticians
Stylish – image is important

Large boot space for equipment

Connected driving with technology to sync their phone, and a DAB radio

Power steering

Parking sensors
So what cars can we recommend for our budding beauticians? Here's a complete list to cater for the City slicker with minimal equipment through to the full-service beautician taking their equipment all over the County.
Nissan Pulsar DIG-T 115 Acenta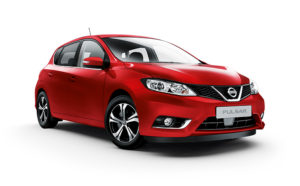 We chose the Nissan Pulsar for the list because of its boot space. On paper, it isn't the largest boot of its class. Losing out to the Peugeot 308. But we loved the practical square shape. This makes the boot space more accessible and suitable for bulkier items such as massage tables. The Pulsar is spacious, offering a sturdy and easy drive with great value for money – both as a private or company choice. Higher-spec models get Nissan's 5.8in touchscreen sat-nav and media system, which includes a DAB radio and reversing camera. This Nissan Connect system is intuitive and quick to respond to commands, perfect for our time-poor beautician.
The Pulsar looks like a close relative of the popular Vauxhall Astra and has similar sleek looks, creating a professional image for our beautician.
Read more about the specs of the Pulsar DIG-T 115 Acenta
VW Tiguan 2.0 TDI 150 SE Nav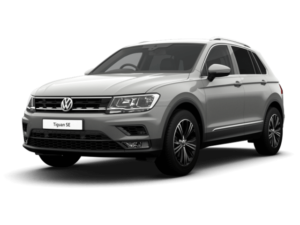 There's more than enough room for our beautician to transport all of their equipment in the VW Tiguan.Even with the rear seats in the upright position. Fold the seats down and you could almost do the treatments from your car space. The rear seats don't just fold down they slide from back to the front giving our beautician more boot space or cabin space as needed. The Tiguan's steering is particularly light for an SUV which will make all the difference to our tired beautician. At all speeds the Tiguan feels stable.
Busting the myths and asking are VW Tiguan's reliable? Our experts investigate
Fiat 500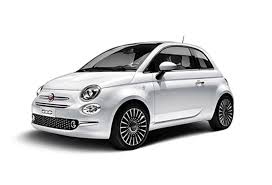 If boot space isn't a big deal then our beautician is free to be all about style. There are few cars more stylish than the revamped and hugely popular Fiat 500. Inspired by the 1957 classic 500 this modern twist comes in a variety of cute colours to choose from. A nippy city car with light steering also features a city drive button making it even easier to drive around City streets. Our beautician's weary arms can rest up in between appointments. Upgrading for an inbuilt TomTom satnav system would be a priority for our beautician to help them get between appointments with ease.
The main selling point of the Fiat 500 is its popularity and overall look. They are holding their value well too.
We pitched the Fiat 500 against the Ford KA and Renault Twingo, see who came out on top.
Renault Megane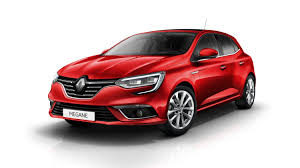 The new Renault Megane has looks which are too sleek to ignore. It's not just the exterior which looks great. The interior is simply beautiful too. The I-Pad style touchscreen on the dash plus comfortable seats makes driving the Megane a joy. The upgraded infotainment system offers everything our beautician needs for a connected driving experience such as SatNav and bluetooth connectivity. The system is easy to use, responsive and clear. There are several storage options in the Megane for both driver and passenger making sure our beautician never leaves business cards, keys, coffee or phone out of reach.
The boot space in the Megane is pretty good but isn't the most spacious on the list. Perfectly adequate for a beautician with a few pieces of equipment, but not ideal for any taking bulky items such as folded massage tables.
Read our massive review of the Renault Megane
Citroen C4 Picasso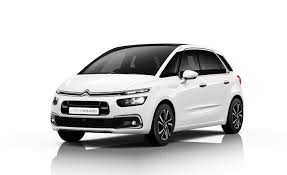 The Picasso is quite simply a clever alternative to a traditional hatchback or estate car. Giving our beautician more flexibility for transporting their equipment. Packed with features for a connected motoring experience. If our beautician goes for the Feel or Flair an impressive 12.0in, full-colour, panoramic high-definition central display with Citroën's Connect Nav will be installed. Steering is good, better at low speeds which is important for our beautician's tired muscles.
The rear seats can be reclined or folded flat independently of one another, and on Exclusive models and above the seats can also be slid back and forth to either give rear passengers more knee room or free-up boot space. The front passenger seat can also be folded by pulling on a lever, which means you can carry seriously long items which could be handy for our beautician.
Another comparison, we look at the Honda HR-V Hatchback vs Citroen C4 Cactus vs Nissan Qashqai. Who wins?
Beauticians come in many variations, with different specialities and service lists. Therefore the decision on which of our recommended best cars for beauticians must be based on personal needs. If our beautician has a lot of equipment then some of these vehicles really are more suitable than others.
Fed up with looking for your next vehicle?
Need advice from an experienced Vehicle Specialist on what vehicle is right for you?
Book your FREE consultation now