How Does Fleet Vehicle Leasing Work?
Fleet cars are everywhere on British roads. They account for 55% of all vehicles up and down the country, which tells you one thing – Company Car Drivers LOVE them.
Fleet cars can often make a lot of sense for businesses whose staff travel for their job or/and allows companies to add them as a valuable benefit of the job. But what are the advantages, and how does fleet vehicle leasing work?
In this article, OSV gives you the lowdown on what it's all about so that your business is able to make a better, more informed decision.
Fleet cars are vehicles provided by an employer which could be a company or a corporation as a way for their employees to carry out their responsibilities to meet customers or/and as a benefit for working for the company. Just because they are called "fleet" does not mean that the company has many vehicles, you may have as few as 2 vehicles
They are normally maintained and Insured by the Employer
The Employer also has to make sure they are taxed.
As vehicles are expensive compared to normal purchases, leasing has become the accepted and often the best way for companies to manage their fleet of vehicles.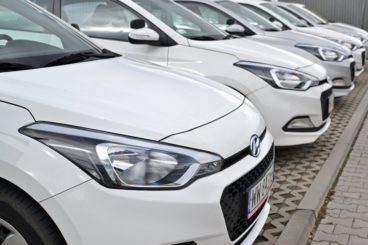 Why do Companies offer Fleet Cars?
1) It's a great employee perk that can give companies the edge over a rival company or to attract the right candidates to work for them, therefore this can help companies to bag the best talent.
2) Normally the vehicles come with a Manufacturer's warranty they are reliable and therefore their employees on the road have no downtime due to repairs and breakdowns and are therefore more productive.
3) In the right vehicle, employees feel good about their transport and the company.
What About Employees and BiK?
One of the major reasons a company leases a fleet car is to make a job more attractive to a potential employee. However, there is BiK to consider.
Any member of staff who takes a company car home will be charged additional tax. This is known as Annual Benefit-in-Kind – or BiK. A car's BiK rating is determined by its CO2 emissions, which means some cars will be more appealing than others. While an electric car will have a very low BiK rating, a Porsche might have one of 37% – the highest there is.
Why does the BiK tax fall onto the employee? It's because HMRC see it as part of their salary package, which ultimately means they'll be hit a lot harder in the pocket if their company leases a fleet of Jaguars as opposed to a fleet of Nissan's.
But how is BiK really worked out?
BiK tax is now a major income stream for HMRC. We say, as a result, the Government has decided that, because cars are getting cleaner, they need to do something to chase that lost cash. To that end, while a car's BiK rate is based on its CO2 emissions, the amount an employee pays is determined by a car's list price combined with their personal tax rate.
The Government, however, say that because vehicles generate CO2 which is one of the causes of global warming it is their responsibility to encourage all drivers to drive more eco-friendly vehicles, and they will reward these drivers by charging them less company car tax.
Fuel consumption is thrown into the mix too, while rates for diesel have increased. In 2017, all diesel company cars came with a 3% surcharge that was slapped on top of their BiK tax. That surcharge jumped to 4% in April 2018.
When choosing a company car, a business needs to strike the right blend of image, usability and costs to the employee. Electric cars are the most cost-effective because they emit zero CO2. They're still liable to BiK tax, though.
What are the Benefits of Leasing Fleet Cars?
More and more companies are choosing to lease their cars. Figures released by the HMRC in 2017 showed that the number of company car drivers hit a 5-year high last year.  
Jean-Michel Boyer, chief executive of BNP Paribas Leasing Solutions UK lent his support in favour of leasing fleet cars when he told The Telegraph:
"When a commercial vehicle is purchased outright, it immediately loses value. An entire fleet which is bought loses value en masse. It's an inefficient use of cash for any business – whether it's an SME or multinational conglomerate – which is undoubtedly better spent elsewhere.
"By exchanging large upfront payments for manageable, fixed-term rental instalments over 12 to 60 months, businesses can stay cash-flow positive over both the short and long term. Thanks to predictable costs, businesses can also budget more accurately, and with minimal risk."
Here are some more benefits:
End of term

– when the lease is

up, your company hands the vehicle back to the leasing company.

Mileage

– the company does not need to worry about depreciation as the leasing company takes that risk. (The company decides the mileage at the beginning of the contract)

Wear and Tear

– as long as you're careful with a fleet car, there's no need to worry about excess wear and tear damaging its resale value
For more benefits of Fleet Car Leasing check out our latest article here.
Perhaps the biggest benefit of leasing fleet cars is the huge tax savings. Leasing a company car allows your company to reclaim tax and VAT at the following rates:
Claim 50% of VAT on the lease rental and 100% if the vehicle is 

used purely for business. If you are leasing vans for the company, these can be claimed at 100% regardless of whether the vehicle is used for a combination of business and personal.
If you choose a maintenance package with your contract hire 

agreement

, you can also claim back 100% VAT on this.
You can claim as much as 100% of the lease rental against

 corporation tax. The rate you can claim is based upon the

CO

2

 emissions of the vehicles in your fleet. Business car lease rentals are 100% Corporation Tax deductible for cars up to 130g/km and 85% for those above that figure.
What decisions do you have to make with Fleet Cars?
As a company, you have the ability to lease cars for your business. In order to do this, you need to first take out a contract hire agreement against the vehicle you want. Companies can lease any new vehicle available in the UK.
Choose your fleet car(s):
First, you need to choose the vehicles you want to lease. Some companies will have a uniformed car choice, and every employee receives the same vehicle.
Others will allocate cars dependant on the job and role and the needs of the employee to complete their daily tasks, while many companies lease a selection of luxury vehicles for management and a lower grade vehicle for workers.
Other companies will give the company car driver a budget to work to.
Choose your lease term:
Secondly, consider the lease term. There are 12, 18, 24, 36, 48 or 60 month options. The shorter the term, the quicker you will need to roll out a whole new set of fleet cars. This is great for businesses who want their employees to benefit from up-to-date vehicle technology, but not so good for a hard-pressed business owner short on time.
Contact your lease broker or lease dealer:
Finally, approach a broker or dealer to discuss how many vehicles you are looking to hire. Discuss all of the particulars and make sure you understand any limitations, such as mileage limits and what happens at the end of the lease contract. Inform your Accountant that you are leasing vehicles so they can ensure you take advantage of the tax relief benefits mentioned above.
At the end of the contract:
When the contract ends you will be asked to return the vehicle(s). The vehicles must be returned in good condition and meet BVRLA standards. If a car in your fleet has gone over their mileage allowance, you will be charged an excess mileage fee. Another possible charge is for any damages accrued while the car was with your business.
In the same way that traditional leasing works, the price you pay is based upon the residual value of the car at the end of the lease, assuming the vehicle is returned in a good state. So if the car is deemed devalued because of damages then you will be charged the difference to bring the vehicle back up to its residual value.
What are the Best Fleet Cars?
Now that you're ready to lease a company car, the biggest conundrum you'll face is – which one?
The best fleet cars in the UK in 2018 are:
1) Skoda Citigo
10) Audi A8 Saloon
You can view last years best fleet cars here.
If you now feel better informed and think that leasing fleet cars is the best decision for you, your company and your employees, why not get in touch with OSV today to see how we can assist you further?

Latest posts by Rachel Richardson
(see all)